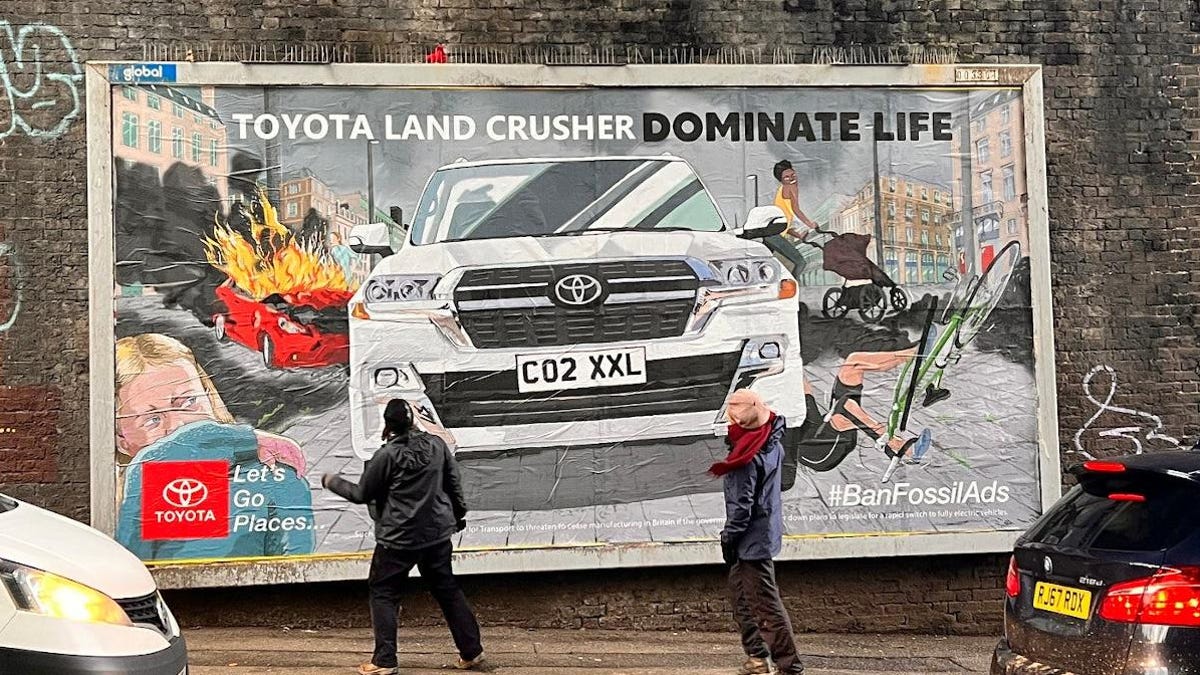 Those of you who live in or just so happened to pass through London, Paris or Brussels last weekend may have noticed some strange, vaguely unsettling Toyota and BMW billboards in your travels. Parody ads highlighting the dichotomy between the automakers' "greenwashed" environmentalist marketing and anti-climate protection lobbying recently popped up across Europe, according to Brandalism, one of the activist groups responsible. And they don't hold back.
"Let's Ruin Everything" one billboard reads, showcasing a new Toyota RAV4 front and center amid a cartoonish hellscape that would've looked perfectly at home in an episode of Happy Tree Friends or Wonder Showzen. Near the bottom, copy mentions Toyota placing 10th on a recent list of corporations obstructing climate legislation.
Another ad juxtaposes the company's Beyond Zero battery-electric series with its continued offering of gas-burning SUVs, while another still depicts a "Land Crusher" causing mayhem and running over pedestrians. Perhaps the most attention-grabbing is the Photoshop of CEO Akio Toyoda with black goo dripping from his eyes and mouth.
G/O Media may get a commission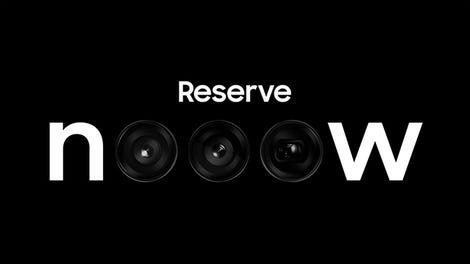 Up to $100 credit
Samsung Reserve
Reserve the next gen Samsung device
All you need to do is sign up with your email and boom: credit for your preorder on a new Samsung device.
For BMW, the focus is on the German manufacturer's diesel emissions cheating. The automaker claimed it "mistakenly" installed the wrong software on as many as 11,000 vehicles back in 2018, allowing those cars to pollute at many times the legal limit. It was ultimately fined $9.6 million by German prosecutors and faced a class-action suit in New Jersey for the offense.
Brandalism, The Subvertisers' International and Extinction Rebellion take responsibility for the ads, which began surfacing about the time the Brussels Motor Show opened its doors last Friday. Tona Merriman, a representative for Brandalism, offered this comment on the campaign in the group's announcement:
"Toyota and BMW use slick marketing campaigns to promote over-sized SUV models that clog up urban neighbourhoods. Electric SUVs are no solution – they're too big for most parking spaces and their tall bumper size and excessive weight present an increased risk to pedestrians, especially children, involved in road collisions."
If that sounds familiar, a similar sentiment was expressed by the Tyre Extinguishers — a loose, international collective of activists that deflate the tires of SUVs in cities. In December that group claimed it immobilized 900 vehicles in one night, primarily in Europe and more specifically London, but also Brooklyn.
BMW and Toyota are far from the only manufacturers peddling SUVs as universal replacements for cars, but the ad spoofing campaign shines a light on Toyota's especially flagrant lobbying efforts as it doubles down on naysaying battery EVs. The Japanese automaker ranked the third-most "negatively influential global company on Paris-aligned climate policy" on the planet — behind Exxon-Mobile in first and Chevron, second — in InfluenceMap's 2021 Climate Policy Footprint. I suppose moving from third to 10th is an improvement, but placing anywhere at all on a list that contains a high concentration of oil producers typically isn't an achievement you strive for.
You may also recall that Toyota sided with the Legion of Doom during the Trump administration's attempt to stop California from having cleaner air than the rest of the country, along with the likes of GM, Fiat Chrysler, Nissan, Kia, Subaru and Mazda. For a company that prides itself on "driving sustainability forward," it's not exactly the stance you'd expect. But as long as automakers churn out greenwashing propaganda, people have a right to point out their hypocrisy.