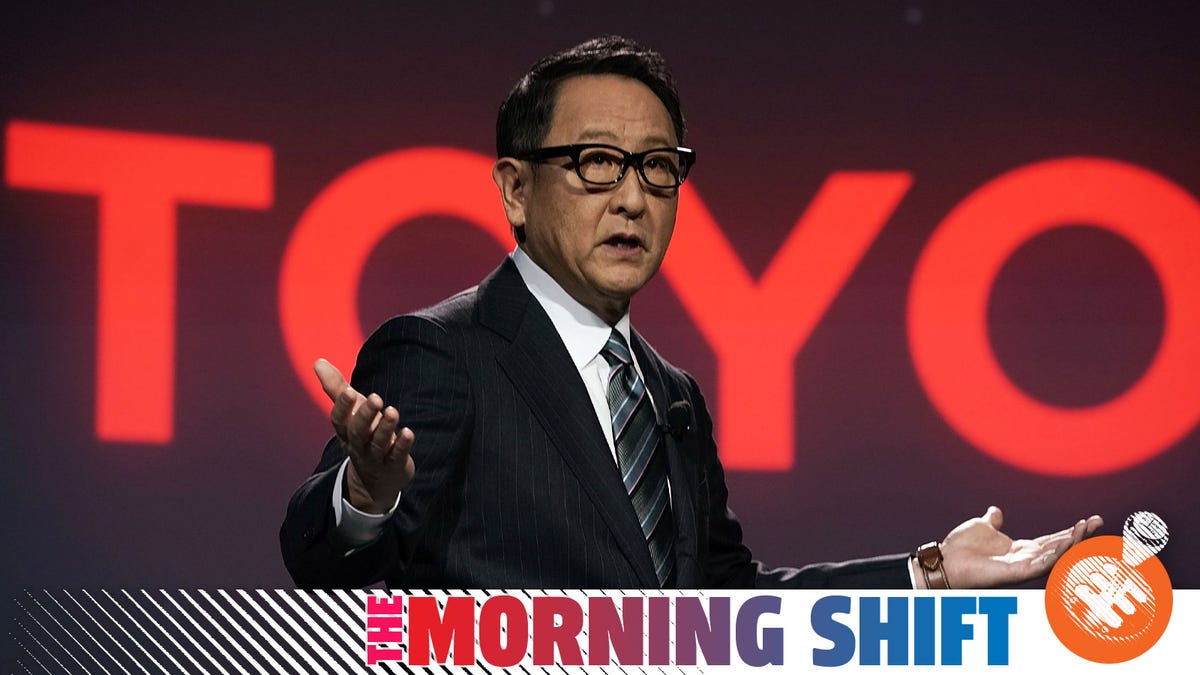 Toyota President Akio Toyoda seen here speaking during a press event at the 2018 Consumer Electronics Show in Las Vegas. Toyoda announced Thursday that he's stepping down after 13 years leading the automaker started by his grandfather, Kiichiro Toyoda.Photo: Alex Wong (Getty Images)
'Morizo' himself is stepping down, Tesla will go to new lengths to keep costs down as it cuts prices, and Renault and Nissan each have homework to do if their marriage is going to work. All that and more in The Morning Shift for Thursday, January 26, 2023.
1st Gear: Goodbye Akio
In an announcement seemingly no one saw coming, Toyota president and CEO Akio Toyoda stepped down on Thursday morning and introduced his successor — former Lexus boss Koji Sato. Toyoda will stick around as chairman, but it'll be Sato's responsibility to lead the manufacturer into its mobility arc, the outgoing exec said during an online briefing per Automotive News:
"I believe that over the past 13 years, I have built a solid foundation for passing the baton," Toyoda said at an online briefing shortly after the announcement. The new management team, Toyoda said, "has a mission to transform Toyota into a mobility company."

Toyoda, 66, has worked closely with Sato, 53, in the latter's roles as head of the Lexus premium brand as leader of Gazoo Racing, a pet favorite of the outgoing president.

Toyoda said Sato was tapped, partly because "he loves cars" and because of "his youth."

Toyoda said someone younger needs to complete Toyota's transition into a new era.

"I'm a carmaker through and through, and that's how I've transformed Toyota," Toyoda said. "But a carmaker is all that I am. That is my limit. The new team under President Sato has the mission to transform Toyota into a mobility company."
Toyoda spent 13 years at the helm. When he started as CEO in 2009, the company his grandfather started was mired in an unintended acceleration scandal that turned out to be the product of bad floor mat design.
Toyoda navigated the manufacturer out of a global recession and through 2011's devastating Tōhoku earthquake and tsunami. He solidified its position as the world's No. 1 global carmaker and brought a badly-needed dose of renewed enthusiasm to the brand, with vehicles like the 86, Supra and GR Corolla — vehicles he personally tested as his racing driver alter-ego, 'Morizo.'
G/O Media may get a commission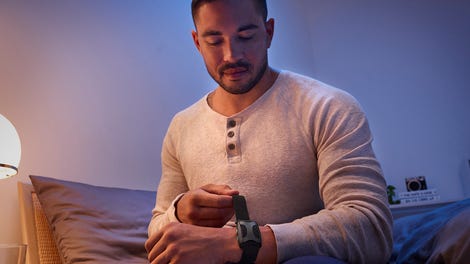 Bounce back from stress
The Apollo can be used to identify stress, and how you recover from it. It claims that you'll recover faster from workouts, increase your ability to deep sleep, and improve focus, with just three hours per day of wear.
Of course, in recent years he's been criticized for Toyota's laggard adoption of battery electric vehicles compared to the rest of the industry — somewhat surprising, considering the marque's earlier success in evangelizing hybrids with the Prius.
Analysts seem to think Sato will herald a fresher, more youthful image for Toyota. They also seem to think 53 is a young age for the leader of the company, based on the industry reaction Reuters corralled. It's worth noting that Akio Toyoda is 66 now, which means he was also 53 when he began his tenure at the top.
Good luck Koji; please give us that Lexus supercar and also the one that looked like a new MR2.
2nd Gear: For Tesla, The Plan's Simple
It basically amounts to "cut costs everywhere." The EV maker held its fiscal fourth-quarter earnings call on Wednesday weeks after slashing prices across its range. A supposedly revamped Model 3 with reduced material expenses is waiting in the wings for 2023, but that's not the only area in which the company's hoping to trim down. Per Reuters:
Chief Financial Officer Zachary Kirkhorn said the company would also be "attacking every other area of cost and unwinding cost increases created for multiple years of COVID-related instability."

That would mean running Tesla factories leaner with fewer materials in inventory, cutting shipping and logistics costs and negotiating lower prices for components, he said — putting Tesla's suppliers on notice.

[…]

Tesla is also cutting costs by redesigning elements of battery and electric motor systems, removing features that owners are not using, based on data collected from Model 3 sedans and Model Y SUVs on the road, the company said.
This is all pretty standard stuff as my colleague Erik alluded to yesterday, when news broke that Tesla raised the price of the Model Y after deeply cutting it to fall right under the $55,000 EV tax credit eligibility cap. If you're pricing out a Model Y today, every option — hell, every color — costs a lot of money. Red, for example, tacks another $2,000 onto the MSRP. For most automakers, this would be viewed as desperate. But when Tesla does these things, it's being lean and resourceful and optimizing its customer base, or something.
3rd Gear: Hyundai Will Spend Lots of Money
$8.5 billion to be exact, mostly earmarked for its future Georgia plant, which will allow it to sell EVs in the U.S. while benefitting from tax credits. Courtesy Bloomberg:
The money will be spent primarily on research and development and on building a new plant in Georgia, the Seoul-based automaker said. Hyundai said in May that it's outlaying $5.5 billion to build an electric car assembly and battery plant near Savannah in the US state, with the project expected to break ground in early 2023.

The South Korean automaker is also targeting revenue growth of as much as 11.5% this year after posting fourth-quarter earnings that beat analyst estimates. Hyundai also increased dividends in an unusual move for the carmaker, whose stock rose as much as 6.3% following the news.

"Favorable foreign-exchange rates and higher sales of value-added cars led the growth for 2022," Hyundai Executive Vice President Seo Gang-Hyun said on an earnings call. He added the global chip shortage that's hampered carmakers since late 2020 should ease in 2023. The company's marketing costs may rise as competition intensifies, however.
Nevertheless, Hyundai enjoyed 21 percent better sales in North America through the fourth quarter, which likely helped it over the line to finishing 2022 as the world's third-largest automaker behind Toyota and Volkswagen. We really do love our Hyundais here.
4th Gear: Renault, Nissan Will Bury the Hatchet on Feb. 6
That's according to two sources close to the automakers, per Reuters. The pair of companies that comprise the industry's most acrimonious partnership (Mitsubishi's there too, of course) have a multi-pronged plan toward more prosperous days ahead. Part of that is Renault owning about as little of Nissan as Nissan owns of Renault, which has been a major sticking point for the Japanese company over the years. From Reuters:
Renault is looking for the Japanese automaker to invest in its new electric-vehicle business while Nissan wants Renault, its top shareholder, to sell down its roughly 43% stake and put the 23-year alliance on a more equal footing.

Renault has consistently declined to comment publicly about the talks with its Japanese partner, while a spokesperson for Nissan declined to comment on Thursday.

The two companies are expected to announce 5 joint projects to relaunch the alliance, covering manufacturing, technology and further geographical development, including in India, one of the sources told Reuters.

It was not immediately clear if already announced deals to produce the successor to the Nissan Micra in a Renault plant in France and junior alliance partner Mitsubishi Motors Corp's new ASX and Colt in Renault plants in Spain and Turkey would be considered part of those 5 projects.
I am weirdly excited for the Micra/Colt/Renault 5 because the official renderings of each — especially the Micra — have looked lovely thus far. I also expect each of those models to be a massive sales disappointment because only Nissan and Renault would invest in new subcompacts at a time when nobody else can figure out a profit in doing that anymore.
5th Gear: Ford Will Expand Remote Service
Have you ever taken up your dealer on remote service? If you ask Ford, it's the way of the future and what many of its customers are beginning to prefer. That's not surprising; people these days seem weirdly fine with paying double, maybe triple for their takeout order on DoorDash instead of just picking up the dang bag.
At any rate, Ford is doubling down on its remote offerings. At the present, the automaker has 828 vans across 600 dealers, but by the end of the year it expects those numbers to rise to 1,400 and 1,000, respectively. From Automotive News:
Rising customer demand for such services, driven largely by the coronavirus pandemic, prompted Ford to enhance its capabilities, according to Todd Rabourn, North America regional customer experience director. He said Ford will offset costs for up to six repair orders per mobile service unit each day and all pickups and deliveries a dealership makes. The payments will be based on a store's warranty labor rates, which vary by market.

Rabourn declined to provide a range of the support dealers will get, citing the different rates. He also said the company would provide training for technicians on how to operate the vans and integrate the services.

"We see this being the growing preference of consumers going forward," Rabourn told Automotive News. "We know customers want convenience, and we think these experiences will make it convenient for them to get their vehicles serviced."

The remote experiences program is voluntary and available to all dealers, Ford said.
These "experiences" will take the form of pickup and delivery, where a driver picks up the vehicle from the customer's location, takes it to the garage and returns it later; or fully mobile service, where qualifying work is performed on-site.
Reverse: The Man of Many Talents
On this day in 1925 — 98 years ago — Paul Newman was born. "The only thing I ever felt graceful at was racing a car," the New Yorker quoted the actor saying. "And that took me ten years."
Neutral: What Would You Like to See From Sato's Toyota?
More EVs? Even more sports cars? (Duh.) Better design? Better products overall? Toyota's been very successful — some would say in spite of, others would say because of its conservatism. Given that, it's hard to imagine any sweeping changes, but how would you hope to envision Toyota five, ten years from now?