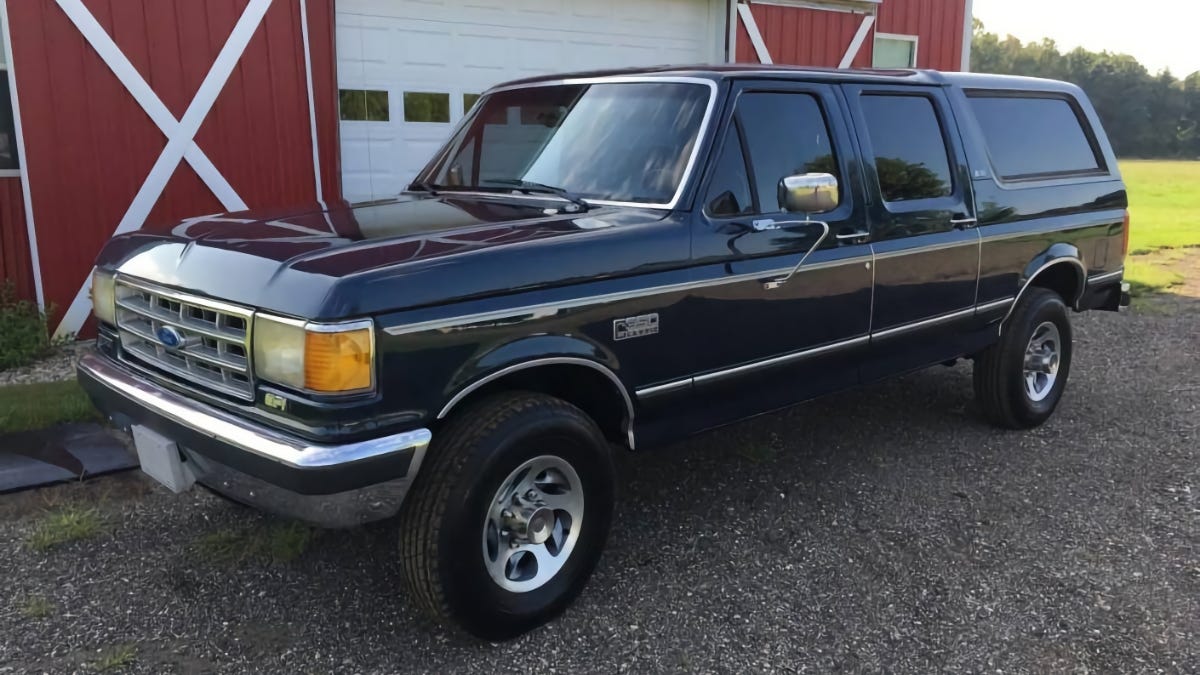 Only about 15,000 Ford Centurions were ever built, so when one like today's Nice Price or No Dice Ford F350 shows up for sale, it's worth taking notice. Let's see if this custom coach-built truck is also worth its asking price.
Half-baked works ok when it comes to grocery store pizzas, but not when it comes to cars. Not unsurprisingly, that was the consensus in the comments on yesterday's half-complete 1950 Studebaker Champion resto-rod. At $13,999, that half effort wasn't doing it for you price-wise either, ending up with the Stude dropping in a 76 percent No Dice loss.
Today's 1990 Ford F350 Centurion looks fully baked, but still might seem a little off to some of you, as you might be unfamiliar with this custom coachwork big truck.
There were actually quite a few of these Centurion conversions built over the course of the late 1980s through the mid-'90s—about 15,000. Crafted by Centurion Vehicles, Inc. of White Pigeon, Michigan, the model started life as an F350 Crew Cab. Centurion then shortened the wheelbase to 140 inches and adapted a Bronco backend to create a fully-enclosed three-row cabin. Centurion called the model the "C-350."
G/O Media may get a commission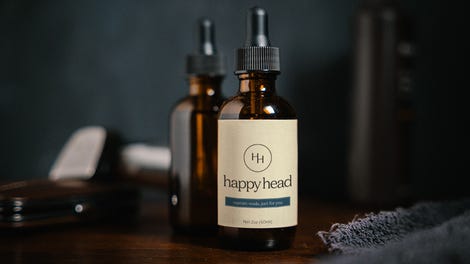 Grow those luscious locks back
This proprietary, prescription-grade topical Finasteride is proven to regrow hair in just a few months.
The intention of the Centurion was to give Ford a competitor to Chevy's successful Suburban, and in fact, boasted greater interior space and larger engines than that category benchmark. The Centurions were sold through Ford dealers and private commissions, with the dealer models carrying full factory warranties. The model was discontinued in 1996 after Ford ended production of the full-sized Bronco.
This one comes in deep blue over a color-coordinated blue mouse fur interior. It features a 7.5-liter gas V8 pegged by the factory to be good for 225 horsepower and 390 lb-ft of torque. An automatic gearbox backs that up, and according to the ad, that has been rebuilt within the last 100 miles. The ad doesn't say if the trans is the C6 three-speed or the AOD four-speed, which was optional for 1990. It's also not disclosed whether this truck is a 4×2 or 4×4, but based on the picture below, I think it's a 2WD.
For something built as a Suburban competitor, the mileage doesn't show it, with a mere 89,000 miles on the clock. We are told that the exhaust is only 100 miles new, and that the truck wears brand-new Patagonia Milestar tires. That's a new brand to me, so I had to look it up. According to the Internet, those are manufactured by the Nanking Rubber Tire Corporation and can be purchased at reputable places like America's Tires.
Other than that, the description is annoyingly parsimonious. The seller claims the Centurion to be in "excellent" condition, noting that it "Runs great." It has a clean title and just passed its emissions test so transferring that title shouldn't be an issue.
What might be, however, is the truck's $17,000 price tag. At that kind of asking, there are lots of competitors around. Few, however, will be as unique and interesting as this Centurion. That, along with what looks to be a turn-key drive-off might just sway prospective buyers.
What do you say? Is this custom coachwork F350 worth that $17,000 asking? Or, does that price make this a non-sensical Centurion?
You decide!
Los Angeles, California, Craigslist, or go here if the ad disappears.
Help me out with NPOND. Hit me up at [email protected] and send me a fixed-price tip. Remember to include your Kinja handle.