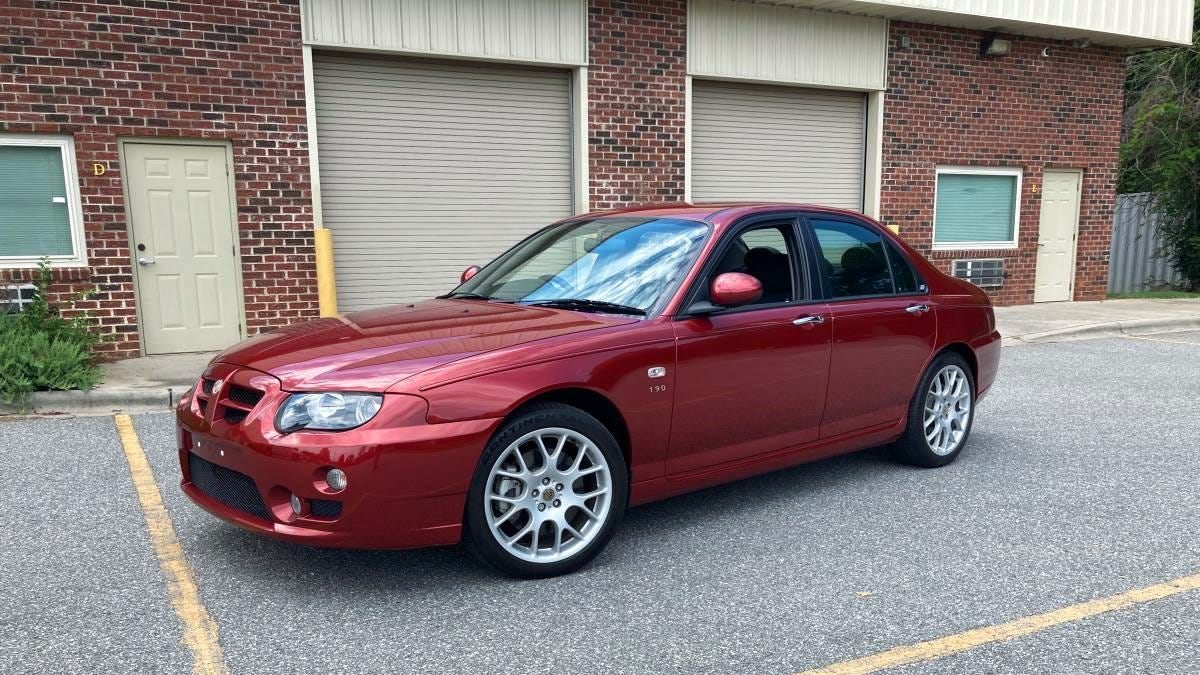 Today's Nice Price or No Dice MG is offered as the only one for sale in the U.S. Seeing as it's under 25 years old, it can't actually be registered for the street here without serious alterations. How crazy would it be to buy it?
Traveling to the isle of Capri to eat a Caprese salad while wearing Capri pants sounds like a delightful experience. You too, thought yesterday's 1993 Mercury Capri XR2 at its $7,400 asking price was just as delightful. That's at least the impression given by your comments and the 72 percent Nice Price win the Capri earned in voting.
Speaking of home, today's 2005 MG ZT 190 might not actually have one. Call it a car without a country.
According to the seller, this Firefrost over Gray Saloon was a test car that MG Rover brought to the States to measure cold weather performance. While testing happened on this side of the Atlantic, back home, MG Rover was in the midst of filing for bankruptcy and closing up shop. Per the seller, this car was left behind in the States as a result of that financial death blow.
G/O Media may get a commission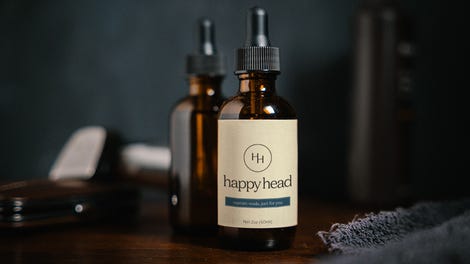 Grow those luscious locks back
This proprietary, prescription-grade topical Finasteride is proven to regrow hair in just a few months.
MG Rover was bought by China's Nanjing Automobile (now SAIC Motor) a mere three months following the bankruptcy. Apparently, scooping up this test car wasn't part of that deal. Nanjing reintroduced the defunct ZT as the MG7 for the 2007 model year and continued its production through 2013. The venerated MG name lives on today on a series of small econoboxes built in both the UK and China.
But, we're getting ahead of ourselves. The MG ZT has an even more interesting history prior to MG Rover going belly-up. This model is a derivation of the Rover 75, a model that the British carmaker developed under the ownership and financing of Germany's BMW. A fun party fact about the Rover 75 is that, over the course of its run, it was offered as either FWD in a four-cylinder or V6 guise, or RWD when fitted with a V8. Clouding the waters even further, that V8 model (also sold as the MG ZT 260) used Ford's 4.6-liter modular mill for power. Remarkably both FWD and RWD models were built on the same production line.
Okay, but back to this orphan. Being a 190 means that it is FWD and carries Rover's 2498cc KV6 V6 engine. According to factory specs, that makes 187 horsepower and 181 lb-ft of torque. Complementing the V6 is a five-speed manual gearbox.
The seller claims to be the second owner and despite specifying the title as missing, they claim to have paperwork on the car. However, I'm not sure what that would do for it. This car is well under the legal limit of 25 years for no-questions import, so it's hard to guess how it could stay here outside of being denoted as a museum piece or some sort of VIN-swapped scofflaw. Considering that it was a test rig it may not even actually have a VIN.
Of course, there may be other ways to keep the car here. I'll admit to not being all that well-versed on out-of-spec abandoned MG saloon registrations in this day and age.
If it is able to be kept in the country, then it would apparently be the only one here. The seller claims that to be the case in the ad. It's also touted to run and drive like a new car, but seeing as it only has 2,200 miles showing on the clock, that's not all that surprising. Those low miles are apparently the outcome of the car sitting for years. Since being pulled from its stasis, it's had a full regiment of consumables updated, including the timing belt and a water pump.
Aesthetically, the car shows its age. According to the seller, it suffers hail damage on the roof and some scuffing on the sides. As far as features go, this MG is typical of many European cars of a certain age, as the front windows are electric but the poor relations in the back will need to work for their fresh air. Not so typical for any car, the boot is claimed to be filled with MG Rover test equipment.
It's only February first and yet I think we have a candidate for the weirdest car on offer for our NPOND contest. This MG really is a head-scratcher considering its vivid history and current status as a visitor visa possessor. Could it be registered for the road here? That I don't know. The more important question, however, is whether it'd be worth the $21,900 asked for it even to try.
What do you say? Is this abandoned MG worth that much to adopt? Or, is that asking price just asking for trouble?
You decide!
Charlotte, North Carolina, Craigslist, or go here if the ad disappears.
H/T to jdmayhorn for the hookup!
Help me out with NPOND. Hit me up at [email protected] and send me a fixed-price tip. Remember to include your Kinja handle.