Photo: Chevrolet
A list of the best-selling vehicles in any given year can be interesting, especially if one or two vehicles make a big jump on the list compared to the prior year. Or if a longtime sales champion falls several spots. Heck, we just published one earlier today. But while Andy was busy doing the important work that's actually going to drive site traffic, I got distracted looking into meaningless sales comparisons. Somehow, I was able to convince Bob to let me write about them, possibly so I'd stop sharing them in our Slack channel.
Let's start off with the car that posted the largest percentage increase in sales this year. That honor goes to the Hyundai Ioniq 5, which improved from 153 sold in 2021 to 22,982 in 2022, which is more than a 14,000-percent increase. Sure, it technically didn't go on sale until December 2021, but hey, a win's a win.
Since I shared the most-improved car, I guess I should share the worst performer, too. The Toyota Land Cruiser takes that award, going from 3,711 in 2021 to 48 in 2022. I guess not building a vehicle anymore makes it harder to sell units. That's almost a 99 percent drop in sales.
But what y'all are probably all here for is to find out which car had the flattest sales performance year-over-year. It was a tight race, but the Chevrolet Tahoe wins that one with sales dropping 0.25 percent compared to 2021 (105,754 vs 106,019). Second place in this category goes to the Ford Edge. It actually increased sales by 0.28 percent in 2022 (85,225 vs 85,465). Now that's the kind of consistency we like to see.
Moving onto raw numbers, the Ford sold 74,370 Mavericks last year, easily beating the Hyundai Santa Cruz's 36,480. But did you know the Santa Cruz outsold the Jeep Wagoneer, the Volkswagen Jetta, and the Toyota Venza? If you didn't, now you do. In fact, it was right behind the BMW 4 Series in total sales.
G/O Media may get a commission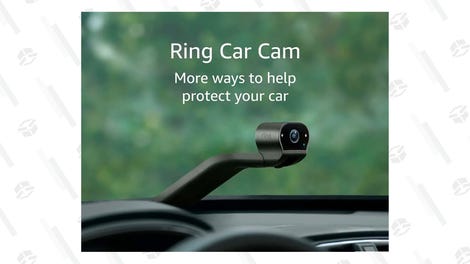 $50 off preorder
Ring Car Cam
It's a camera. For your car.
The Ring Car Cam's dual-facing HD cameras capture activity in and around your car in HD detail.
Then there's the Lucid Air, which only began deliveries this year. 1,949 cars delivered isn't anywhere close to enough to dethrone the Tesla Model S, but it did outsell the Hyundai Veloster and the Infiniti Q60. And the Genesis GV60? It came within three sales of tying the Audi A8, and it beat out the BMW Z4 by 25 units.
Actually, on the subject of the Z4, only 1,565 were sold in 2022. Meanwhile, Toyota sold 4,952 Supras. Oh, and do you remember the Hyundai Nexo? With 408 sales, it outsold both the Audi R8 and the Acura NSX. I know the R8 is getting old, but I don't know if I want to live in a world where there's more demand for a California-only hydrogen fuel cell crossover than a V10-powered supercar. Similarly, I know for a fact that I don't like living in a world where two more people bought a Fiat 500X than bought an Audi TT.
Before I wrap this up, let's hit a few more in rapid succession. The Volkswagen ID.4 beat the Nissan Titan. The Kia Forte beat the Toyota Tundra. The Hyundai Palisade beat the BMW X5 and the GMC Yukon. The Honda Odyssey beat the Ford Mustang. The Ford Mach E beat the Chevrolet Bolt. The Ford Ecosport beat the Mazda3. The Mini Cooper beat the Subaru WRX. The Nissan Leaf beat the Nissan Armada.
OK, I think that's enough for now. Did you learn anything useful or important? Probably not. But do you now have a laundry list of fun facts to share at parties? You betcha. Now go forth and annoy your friends, family, romantic partners, and Tinder dates with these fun and interesting conversation starters.