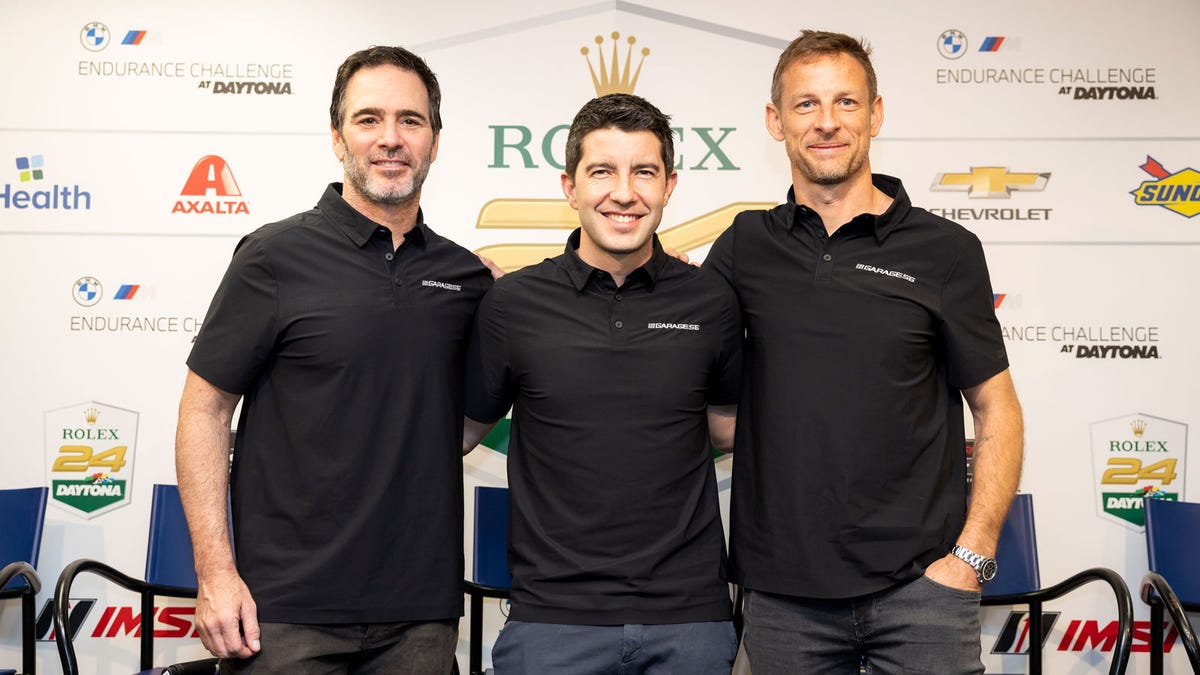 Jimmie Johnson, Mike Rockenfeller, and Jenson Button (L-R). Photo: James Gilbert (Getty Images)
If you've been crowned the best in the world at the one thing you've worked at all your life, what do you do next? Would you stick at it, trying to keep holding onto your crown, or would you retire graciously to leave a cloud of mystery around your legacy? For ex-champions Jenson Button and Jimmie Johnson, it doesn't sound like they're taking either option, and are instead just having a go at whatever they fancy.
That's maybe why they'll be taking on the 24 hour race at Le Mans this year. The 2009 F1 champion and the seven-time NASCAR cup series champion will join 2010 Le Mans winner Mike Rockenfeller at the Garage 56 team when it heads to the legendary French race later this year.
That might sound like an odd mix of drivers to take on Le Mans, but it starts to make sense when you hear what car the three will be driving. These three champs from three very different racing series will pilot a NASCAR Next-Gen racer at the 24 Hours of Le Mans.
Jimmie Johnson won NASCAR's Cup Series seven times. Photo: Jim McIsaac (Getty Images)
"I'm super thrilled — it's been at the top of my bucket list to compete in the 24 Hours of Le Mans someday," Johnson said in a statement shared by the team. "To have this opportunity come — and to partner with everybody and this driver lineup — is truly an incredible opportunity and one that I am thankful to be a part of."
G/O Media may get a commission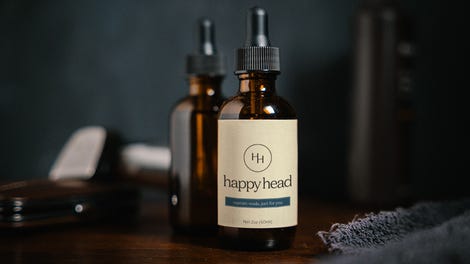 Grow those luscious locks back
This proprietary, prescription-grade topical Finasteride is proven to regrow hair in just a few months.
The Garage 56 entry was announced by Hendrick Motorsports last year. The team has partnered with Chevrolet to prep a Next Gen Chevrolet Camaro ZL1 racer for the grueling event.
To make the NASCAR racer Le Mans-ready, the car has been fitted with dive planes up front, side-view mirrors and new suspension components. Bigger changes made across the car include a different chassis to a standard NASCAR racer and a different engine.
The most American car you'll find in France this June. Photo: James Gilbert (Getty Images)
The car was previously put through its paces at a test event late last year, when Rockenfeller got his first taste behind the wheel. Now, the Garage 56 squad is preparing to hit the track once again at a two-day test at Daytona International Speedway.
In a team statement, Button said: "As a lifelong racing fan, I have always dreamed of racing certain cars, with and against certain drivers and competing in certain events.
"In June, a number of those dreams will come true in one event when I get to bring NASCAR to the world stage alongside my pals Jimmie and 'Rocky' for the 100th anniversary of the most prestigious race in the world. I'm really looking forward to sharing this journey with NASCAR, Hendrick Motorsports, Chevrolet and Goodyear, and current and future NASCAR fans from around the world."
Jenson Button won his F1 world title in 209 with Brawn GP. Photo: Mark Thompson (Getty Images)
The whole plan sounds crazy. A NASCAR racer at Le Mans feels about as out of place as an Extreme E racer running in IndyCar. And now, with an F1 champ and a NASCAR victor at the wheel, I can't decide if it makes the whole thing make more or even less sense?
I guess we all just have to wait with excitement until the car finally takes to the track at La Sarthe in June to find out which side of the fine line between madness and genius it lies.