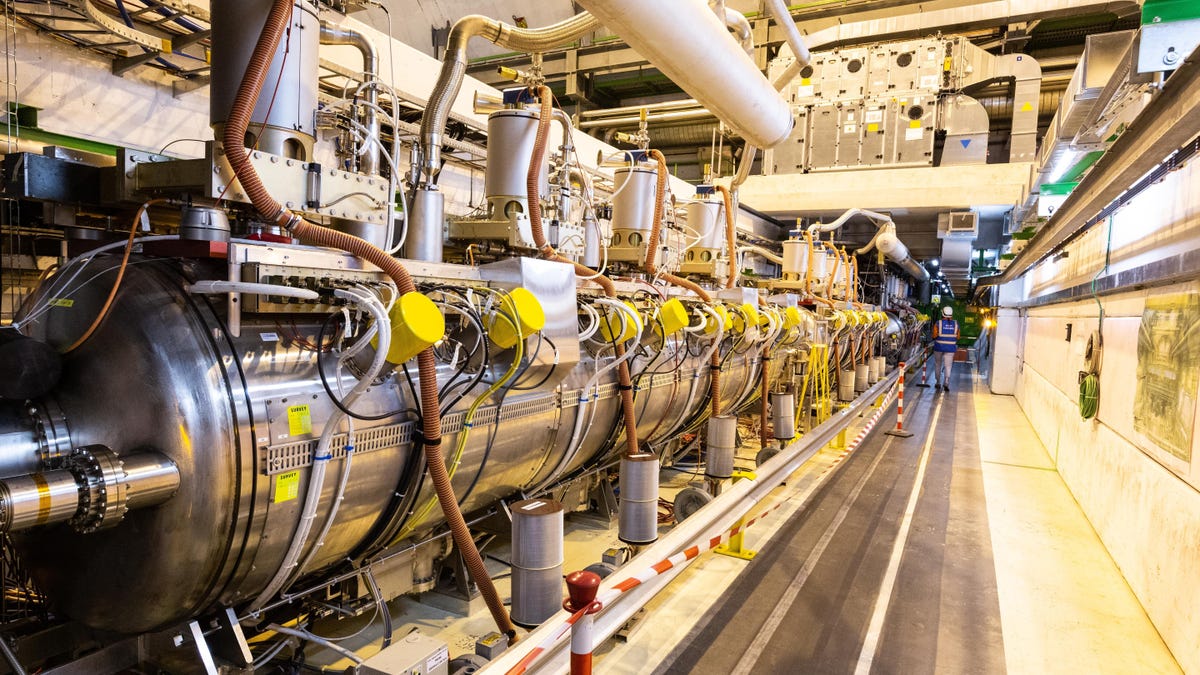 A part of complex Large Hadron Collider (LHC) is seen underground during the Open Days at the CERN particle physics research facility on September 14, 2019 in Meyrin, Switzerland. Photo: Ronald Patrick (Getty Images)
A three-year study between Volvo's autonomous software arm and the Large Hadron Collider in Europe shows promise in helping self-driving cars understand the road and make split decisions.
The Large Hadron Collider is undeniably epic. It's the world's largest and most powerful particle accelerator capable of smashing particles together at nearly the speed of light using superconducting magnets. After the collision, physicists take a look at the extremely short-lived wreckage to discover the building blocks of our universe. The LHC is run by CERN, or the European Council for Nuclear Research (Conseil Européen pour la Recherche Nucléaire) and has been accelerating particles since 2008.
With a lot of experience in studying crashes, CERN is uniquely positioned to help car companies develop machine learning programs capable of making split-second analysis of complex situations. The subatomic particles studied by researchers at CERN are infinitesimally small and exist for only a microsecond. To understand what these particles are, CERN developed algorithms that use Deep Learning to identify these fragments of matter.
Researchers spent the past three years working with Volvo's autonomous driving software development subsidiary, Zenseact, focusing on computer vision, which includes all the programing that allows computers to "see" and react to the real world. The purpose of the research was to use the LHC's Deep Learning algorithms to improve autonomous cars' decision making.
"The results of our research show that there's still room for improvement when it comes to running the Deep Learning algorithms faster and more energy-efficient on resource-limited on-device hardware," said Christoffer Petersson, research lead at Zenseact, in a press release. "Simply put, machine learning techniques might help drive faster decision-making in autonomous cars."
G/O Media may get a commission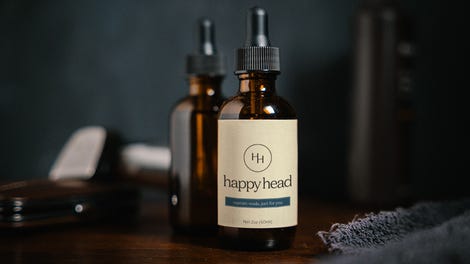 Grow those luscious locks back
This proprietary, prescription-grade topical Finasteride is proven to regrow hair in just a few months.
Zenseact wanted to know if its chosen computer chips of choice, known as Field Programmable Gate Arrays, could handle complex algorithms. From the press release:
The main result of the FPGA experiment was a practical demonstration that computer vision tasks for automotive could be performed with high accuracy and short latency, even on a processing unit with limited computational resources.

"The project clearly opens up for future directions of research. The developed workflows could be applied to many industries, for example, automotive." Christoffer explains.

Many of the challenges faced by future scientific experiments and the automotive industry's technological challenges require processing large amounts of data in real-time, often through edge computing devices with strict latency and power consumption constraints.

The joint team of Zenseact and CERN researchers carried out this project within an open-source software environment. The collaboration reveals that the largest physics experiment in the world could clearly help autonomous driving. Results show great promise for future speed and accuracy increases in image recognition for autonomous vehicles, helping to improve cars' ability to avoid accidents. For CERN, it has also been a fruitful collaboration.
The research didn't just benefit Zenseact. Researched at the LHC were able to refine their algorithums during the study as well.
"Our work together elucidated compression techniques in FPGAs that could also have a significant effect on increasing processing efficiency in the LHC data centres," Maurizio Pierini, Physicist at CERN. "With machine-learning platforms setting the stage for next-generation solutions, future development of this research area could be a major contribution to multiple other domains, beyond high-energy physics."
Volvo claimed in 2022 it was on the cusp of bring a self-driving car at or exceeding Level 3 autonomy to the market this year. Zenseact, along with LiDar development company Luminar Technologies, developed the self-driving system called Ride Pilot. The subscription service is supposed to be available to drivers in California sometime this year, but Volvo hasn't really mentioned Ride Pilot much since the 2022 Consumer Electronics Show. We've reached out to Volvo about how this research affects Ride Pilot and will update this story when we know more.