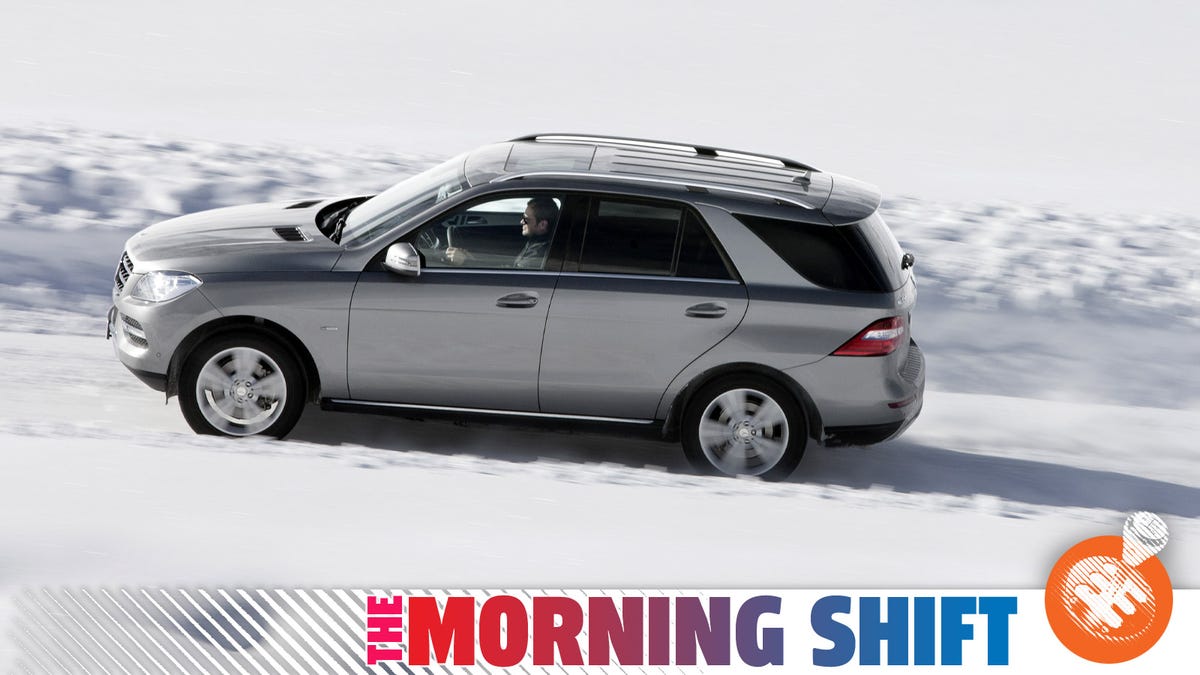 Image: Mercedes-Benz
If you own a Mercedes-Benz SUV there could be a recall coming your way, Stellantis' CEO really doesn't like how Chinese automakers can churn out EVs for so much less than it can, and BMW's CEO thinks big infotainment screens will fade away, only to potentially be replaced with something even less safe. All that and more in this Friday edition of The Morning Shift, for January 6, 2023.
1st Gear: At Least it's Only the SUVs
If 2022 confirmed anything, it's that three things are certain: death, taxes, and recalls. Mercedes-Benz is ringing in the new year with a campaign covering 323,963 U.S.-registered SUVs — specifically certain MLs and GLEs between model years 2012 and 2020. The issue is a risk of water intrusion in the spare tire compartment, which could tamper with the fuel pump control unit and result in a stall, according to the National Highway Traffic Safety Administration.
The signs of an affected vehicle may be pretty obvious, as Automotive News tells us:
Customers will be notified by mail before Feb. 21. A damp carpet in the rear end of the vehicle, the sound of water splashing in the spare tire wheel well or an illuminated check engine light could alert drivers before the issue occurs, a statement said.

"We are not aware of any crashes, injuries, deaths or property damage claims in the U.S. related to this defect," Mercedes-Benz USA spokeswoman Anne McGregor said in a statement.
G/O Media may get a commission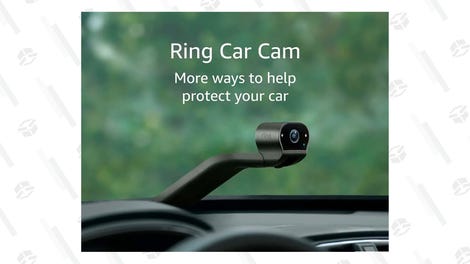 $50 off preorder
Ring Car Cam
It's a camera. For your car.
The Ring Car Cam's dual-facing HD cameras capture activity in and around your car in HD detail.
The list of models impacted isn't extremely clear cut — the recall avoids certain trims and specs, depending on model year:
2012-2014 ML550
2012-2015 ML350 and AMG ML63
2015 ML250 and ML400
2016 GLE450 and GLE300
2016-2018 GLE350 and GLE550
2016-2019 GLE400
2017-2019 AMG GLE43
2016-2020 AMG GLE63
The data is already live on the NHTSA's recall lookup tool, so you can input your vehicle's VIN to see if it's one of the hundreds of thousands included.
2nd Gear: Carlos Tavares Is Concerned About China
Stellantis made a big splash at this year's Consumer Electronics Show, what with the Ram Revolution and Peugeot Inception concepts, the announcement of a new data-focused subsidiary, and a tie-up with an electric aircraft maker, of all things. The company seems to have plenty to be excited about. Behind the scenes, however, CEO Carlos Tavares is a little nervous, per German-language Automobilewoche via Auto News:
If politicians in Europe do not find an answer to the push into Europe by Chinese automakers, there will be a "terrible fight," Tavares told Automobilwoche on the CES sidelines.

Europe's auto industry could be forced to massively reduce its production capacity in the face of rising competition from China, Tavares said.

Chinese automakers are expanding in Europe with competitive and aggressively priced vehicles, Tavares added.

"The price difference between European and Chinese vehicles is significant. If nothing is changed in the current situation, European customers from the middle class will increasingly turn to Chinese models. The purchasing power of many people in Europe is decreasing noticeably."
Tavares' fear isn't his alone. Patrick Koller, chief of Forvia, a supplier, also estimated on the CES floor that Chinese automakers have a 10,000-euro advantage in their cost of EV production. (That shakes out to $10,618, by the way). He also said the EVs coming out of China are "good," and that this is primarily a European concern, rather than a North American one, because of the U.S. government's high tariffs have largely kept Chinese manufacturers out of the market thus far.
Koller attributed the difference to lower research and development costs, spending, and labor in the region. Meanwhile, Tavares said the European Union's stringency toward reducing carbon emissions isn't helping its cause. Maybe not, but not every country can be this one, welcoming Hellcats, TRXs, and a frankly embarrassing corporate average fuel economy.
3rd Gear: The Bolt Just Got (Slightly) More Expensive
Last summer, General Motors announced that the Chevrolet Bolt was getting a price cut, making it the cheapest new EV in the U.S. Fast-forward six months later and the return of federal tax credits for electric cars means GM doesn't have to do quite the same heavy lifting, in terms of subsidies, that it did before. So the price of the Bolt is actually going up now, but just slightly, by $900. That means the compact EV now starts at $27,495, with the EUV model at $28,795, both including destination.
Green Car Reports has the story:
It was previously thought the Bolt EV would only qualify for a $3,750 credit, but because the Internal Revenue Service (IRS) pushed back some of its battery requirements, the Chevy qualifies for the full $7,500 credit for the time being.

GM has raised the price of the Bolt EV by $900 to $27,495 with the mandatory $995 destination charge. The related Bolt EUV looks slated to get a $600 price bump, bringing the base price to $28,795 with destination.

The automaker, when asked about the pricing change and any connection to the EV tax credit, didn't mention the latter in a statement provided to Green Car Reports: "Due to ongoing industry-related pricing pressures, the Chevy Bolt EV and EUV will see modest price increases starting in 2023, but we expect it to remain America's most affordable EV. Chevrolet remains committed in its long-standing role to provide true value. We expect to continue building the record sales momentum we saw in 2022."
Even with an almost $1,000 hike, the Bolt is still obviously cheaper than ever, as it'll temporarily benefit from a full $7,500 credit. Get 'em while you can.
4th Gear: BMW CEO Doesn't Think Big Screens Are Long for This World
I remember attending CES myself for the first time, in 2019, when Byton was the talk of the town. (Remember them?) Byton's calling card was a massive 40-something-inch display spanning the entire dashboard, along with another tablet-sized display in the steering wheel and yet more displays behind each front-row headrest for backseat passengers.
This seemed like the way all things would go in the future, as much as we all hated the idea and the obvious safety risks it posed. BMW's Oliver Zipse doesn't think so, though. He thinks it's only a matter of time before legislators come for screens in cars. From Automotive News Europe:
"Driver distraction is the main source of accidents, not fast driving," Zipse said at a media briefing at CES 2023.

Zipse said he is "absolutely convinced" that center console-based screens that require drivers to look away from the road will soon be history.

"In 10 years, that is gone," Zipse said. "Probably the regulator will not allow it."
This explains the heads-up display-centric i Vision Dee concept that the German automaker just unveiled in Las Vegas. The vehicle can supposedly project augmented-reality graphics onto the entire windshield, which would seem even more distracting, as it has the potential to obscure an otherwise clear view of the road. "Distracting," then, probably isn't the right word. Maybe "deliberately obtrusive" is more appropriate. Thankfully, like most things at CES, it's at least 15 years away, if it ever shows up at all.
5th Gear: Zeekr
Geely's EV sub-brand is really going for it, hoping to double sales this year while also making headway into new markets. Courtesy Reuters from, where else, the Consumer Electronics Show:
Chinese electric vehicle brand Zeekr aims to double sales in 2023 to about 140,000 vehicles and plans to expand sales in Europe, Chief Executive Andy An told Reuters on Thursday.

Zeekr, a brand created by Chinese automaker Geely, sold 72,000 vehicles in 2022, mostly in China. Its 001 model, priced at about 300,000 yuan ($43,600), competes with Tesla Inc's Model Y crossover and other luxury models in the increasingly competitive Chinese market.
Zeekr filed for an initial public offering on the U.S. stock exchange last month, but don't get your hopes up about an American entry. The company isn't ready to cross that bridge quite yet.
Reverse: A New Vette Is Born
Image: General Motors
On this day in 1997 — 26 years ago — the C5 Corvette was launched at the Detroit Auto Show, "combining beauty, performance, comfort and magic all in one sleekly-styled, aerodynamic machine" per the official press release. If you follow that link to the Corvette Action Center, yes, I'm aware that the image at the top is of a C6. Rest assured, the release is for the C5, from 1997. It's an understandable error, considering the C6 was the least ambitious redesign of maybe any car ever.
Neutral: We Could Have Had it So Much Better
Image: General Motors
GM never had the moxie to build its best ideas. The fact the C5 was not more like the mid-engine, Lotus-powered 1986 Indy concept seen above is proof of that. From left to right: Dave Hill, Zora Arkus-Duntov, and Dave McLellan, the Corvette's first three chief engineers.