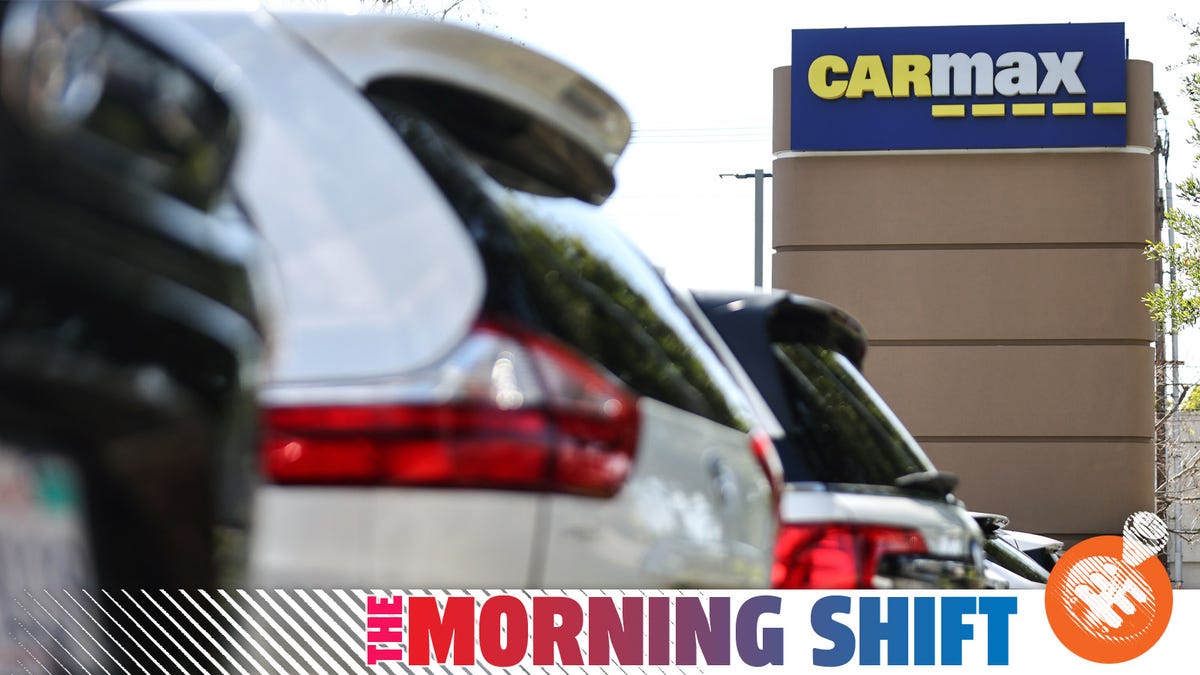 Photo: Mario Tama (Getty Images)
Used car sites are cutting their advertising spend and you'll be able to tell in about a month, the U.S. government wants to end transportation emissions once and for all it was a decent year for some German brands, a worse one for others. All that and more in your Morning Shift for Tuesday, January 10, 2023.
1st Gear: What Happened, Carvana? CarMax? Vroom?
Y'all have made such a splash during prior Super Bowls, cheekily demonstrating to Americans a new way to buy cars free from the pain of shady dealership tactics. In Carvana's case, maybe you'd never get the title you paid for, but hey — at least you wouldn't have to sit in a stuffy office! People hate sitting in offices that much, apparently.
Anyway, none of those three companies look set to air spots during this year's Super Bowl on February 12. PR representatives from each toldAutomotive Newsthey have no plans for the big game.
Fox, the network that will carry the game broadcast, said in September that 95 percent of available commercial time was already sold out. Costs of some select 30-second advertisements reached an estimated $7 million.

Richmond, Va.-based CarMax did not air a commercial during the Super Bowl in 2022, though it has placed such advertisements before. Tempe, Ariz.-based Carvana made its debut as a Super Bowl advertiser in 2022 with a 30-second commercial titled "Oversharing Mom."

Houston-based Vroom has twice aired advertisements during the Super Bowl. The online retailer sparked some controversy in 2021 with a commercial called "Dealership Pain," which ribbed the car-buying process at a traditional dealership. In 2022, Vroom ran "Flake the Musical," a commercial that evoked the movie musical La La Land to tout the seamlessness of selling through its online platform.
The reason for the change of heart is simple: 2022 wasn't kind to any of them, and they need to save money. Each spent less on advertising through the last fiscal quarter, with Vroom being the most conservative, slashing ad spend by 58 percent compared to the same period in 2021. Looks like we'll just have to turn to other companies to serve up the cringe on Super Bowl night.
2nd Gear: The Government Has a Plan
On Tuesday the Biden administration revealed a blueprint to "eliminate nearly all greenhouse gas emissions" from the transportation sector by 2050. In truth, it's less a precise strategy and more a set of goals to steer lawmakers, co-authored by the Environmental Protection Agency and Energy, Transportation and Housing and Urban Development departments. Again, from our friends at Automotive News:
The blueprint is intended to guide future policymaking as well as R&D and other efforts in the public and private sectors, such as increasing access to clean and affordable transportation options, modernizing the grid to meet demand from electric vehicles and reducing emissions from the entire transportation life cycle, including emissions from construction.

It also requires working closely with states, local communities, labor unions, the private sector and other key stakeholders.

For the auto industry, it means continuing investments in EV and battery manufacturing and expanding the number of electric models across their vehicle lineups, a senior administration official said Monday during a press briefing.
You can read the blueprint in its entirety here, but the crux of it — as highlighted in the official fact sheet — is three pillars: increasing convenience, improving efficiency and transitioning to clean options. Broken down, this handy graphic explains what each actually means:
As the document states, "while the first two strategies will contribute to reducing GHG emissions and produce significant co-benefits, transitioning to clean options is expected to drive the majority of emissions reductions." The government's data places 49 percent of emissions in the sector on light-duty vehicles, with medium and short-haul heavy trucks and buses comprising 14 percent, and long-haul trucking 7 percent. For the latter two, and particularly the long-haul group, hydrogen is viewed as posing the biggest opportunity as a "clean" fuel option. This, of course, isn't the first time we've heard as much.
3rd Gear: Volvo <3 Subscriptions
A few weeks ago, Bloomberg posted an interview with Volvo's chief operating officer that the company wasn't about to nickel-and-dime customers for stuff like heated seats. But CES just happened, and part of Volvo's story there was its partnership with Qualcomm in developing its first "software-defined vehicle." That's code for "car with feature subscriptions," as far as I've found. Take it away one more time,Auto News:
Features that Volvo could monetized over time include audio content, navigation content and digital services, [Martin] Kristensson, [Volvo's head of product definition and partner management] said.

Volvo uses Qualcomm's Snapdragon SA8155 chip to help power the car's Android operating system from Google, leveraging Qualcomm's experience in supplying chips to power Android smartphones.

The automotive industry is reaching the same tipping point as smartphones did when they became updateable with new apps and features, Mark Granger, head of Qualcomm's Digital Cockpit automotive product, said.

"We can do so much more in the cockpit. We can innovate and bring new features over the lifetime of the vehicle," he added.

Volvo would always ensure upgrades to safety features are free, Kristensson said.

"What we can monetize are things that go above and beyond — both car-centric functions like automatic parking and also digital services," he added.

However, he hinted that increasing autonomy to Level 3 hands-free might not be classed as a safety function, and therefore could be chargeable.

"Autonomy is time saving, and time is the most precious resource. If I can save half a day more, that is probably very valuable for you," he said.
If Volvo's looking to charge primarily for digital or software-based content, that's pretty much the best we can hope for as consumers in this day and age. But honestly, it's foolish to expect anyone to stick to their ideals once they realize how much money they are leaving on the table.
4th Gear: Not a Great Year for Volkswagen…
The brand moved 6.8 percent fewer cars in 2022 compared to 2021, and doesn't expect 2023 to pan out significantly better. From Reuters:
Volkswagen warned on Tuesday that ongoing chip shortages meant 2023 would remain volatile and challenging but expects supplies to improve, as it reported a 6.8% drop in sales by the brand to 4.56 million in 2022.

Order books in Europe, where the war in Ukraine has caused extensive supply chain problems, were up 18% from the same time to 640,000 vehicles, and the carmaker was working to deliver faster this year, it said in a statement.
On the flip side, VW's battery-electric vehicle sales grew 23.6 percent last year. And it's probably a good thing the company finally has a repertoire of SUVs these days, because SUVs reportedly represented 80 percent of its sales in the U.S. Not that it sells much else here anymore.
5th Gear: …But a Better One for BMW and Mercedes
As we look to the luxury German makes, however, things were considerably brighter in 2022. BMW sold 4.8 percent fewer cars last year, however its fourth-quarter deliveries improved year-over-year by 10.9 percent in Europe and 12.7 percent in China. It's been able to stave off a drop in revenue, despite the downturn in units, by jacking up MSRPs, Reuters said Tuesday.
Meanwhile, Mercedes-Benz only lost 1 percent in terms of global sales in 2022, and improved 17 percent in the fourth quarter alone. North American sales actually improved through last year, by 3 percent. Luxury brands continue to be in the best position to weather these headwinds as everything becomes more expensive and less plentiful. Is it any surprise?
Reverse: The Little Car That Was Supposed to Change Everything
Neutral: The Best Intro In Motorsports History
It really never got better than early-2000s WRC. If you want more golden-era WRC bliss, the three-minute (!) intro to the first game in Evolution Studios' PS2 series is more of a wonderful thing.