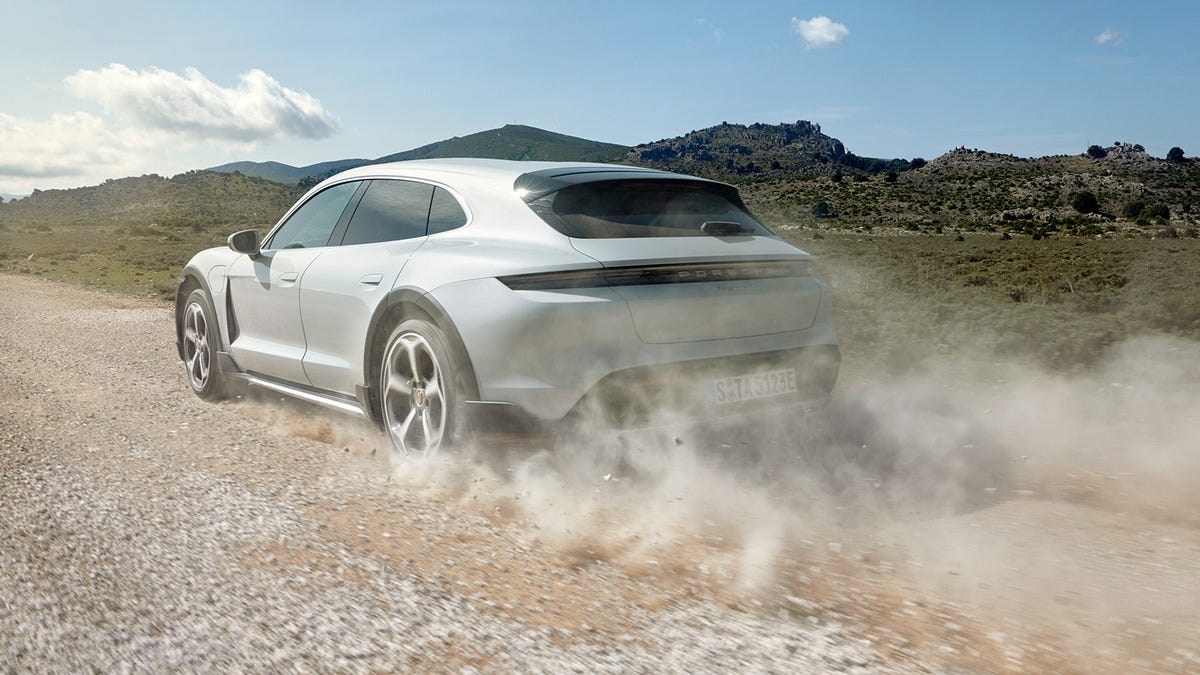 Porsche's flagship electric SUV, codenamed "K1," will reportedly measure longer than the Taycan Cross Turismo, seen here, with an extra row of seats and "considerable" ground clearance for off-road driving.Image: Porsche
Now that practically every luxury automaker has an SUV to call its own, the next step is coming up with flagship, battery-electric versions. Porsche has been hard at work on its interpretation of the brief, and one thing's clear, if fresh rumors bear out: it's going to be absolutely huge.
This isn't particularly surprising, of course. EVs are big, and so are SUVs. Put them together and you have a vehicle that doesn't tend to have the laws of physics on its side, at least unless you're trying to "win" a car accident. The "K1″ — that's Porsche's internal name for this thing — is said to measure more than five meters long, per Autocar'sanonymous sources.
That's big, though not uncharted waters for Porsche. Five meters equals 196.85 inches, and the Cayenne and Taycan measure 194 and 195.4 inches, respectively. For reference, the GMC Hummer EV pickup is 216.5 inches long.
The K1 will feature three rows of seating and is said to carve a silhouette "half-saloon, half -crossover," based on what the publication's learned. Technically, crossovers are already supposed to be the halfway point between sedans and SUVs, so that would leave the K1 closer to the "car" end of the spectrum. But then Porsche kind of already has that, and it's called the Taycan Cross Turismo.
Unlike that Taycan, the K1 would have a "short bonnet by Porsche standards." It'll utilize Stuttgart's Premium Platform Electric architecture, with the ability to raise its ground clearance to a "considerable" height in its most aggressive, gravel-hungry mode. Rear-axle steering appears to be in the cards as well, which makes sense, considering Porsche already offers it on much of its lineup these days.
G/O Media may get a commission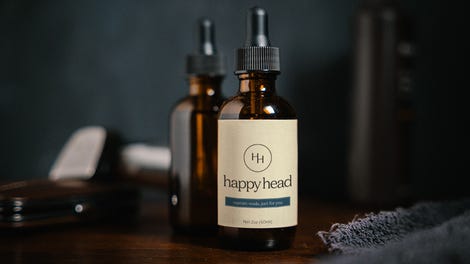 Grow those luscious locks back
This proprietary, prescription-grade topical Finasteride is proven to regrow hair in just a few months.
Finally, a new electric system, rated at 920 volts, would speed up charging beyond the existing 800-volt pipeline. It's planned to power a 100-kWh pack, with a target of 435 miles on a full charge, per the WLTP cycle.
The K1 will serve as the zenith of Porsche's battery electric efforts, but the brand still has other holes to fill in its lineup before it gets here. By the time it launches in 2027, the manufacturer should already have electric versions of the Macan, 718 duo and Cayenne filing out of the factory, in that order.
It's probably best to think of the K1's prime adversary as the BMW XM, merely a hybrid though it is. The Lamborghini Urus and especially Ferrari Purosangue will be much more expensive, and the K1's price range should be similar to the Bentayga's, though Bentley's offering is clearly more geared for comfort than performance. This being Porsche we're talking about, I'm sure the brand will figure out unthinkable ways to make 6,000 pounds of EV move on a closed course in a manner that defies all laws of nature.