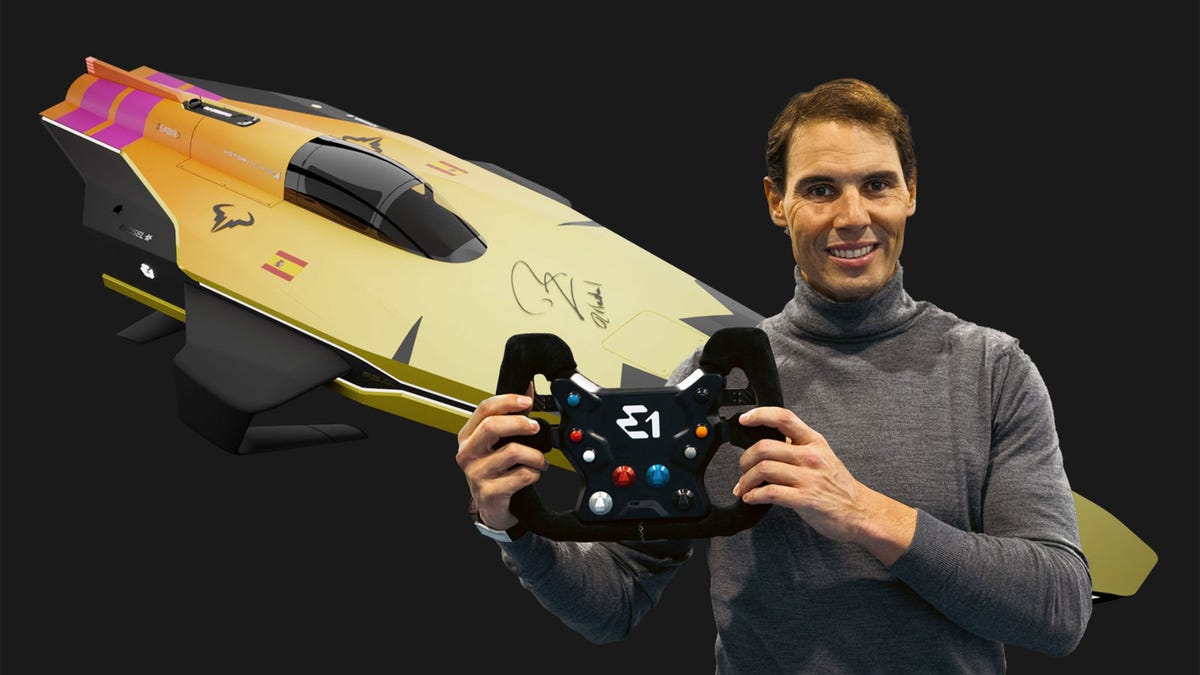 Rafael Nadal is going speedboat racing. Photo: UIM E1 World Championship
We've all got hobbies that we enjoy outside our work life, right? Me, I like going for a hike or playing a spot of saxophone. But if you're a 22-time grand slam winner, then activities like that just don't cut it. So if you're, say, Rafael Nadal you might be on the lookout for a pastime that's a bit more high octane. Perhaps something like all-electric speedboat racing?
Well, that's exactly what the world's most successful male tennis player is doing. He's launching a team in the new E1 series of all-electric boat racing, which will kick off its first season later this year.
First reported by The Guardian, the tennis ace will field a team in the UIM E1 World Championship. In a statement shared by the series, Nadal said:
"I'm really excited to be getting involved with a project like E1 that values sustainability and will make a positive impact on society as a whole, especially in coastal communities. I also like the fact that E1 has a clear mission and is committed to preserving marine ecosystems.

"As a professional athlete, I recognise how making marginal gains has a positive impact on performance. To see this same competitive spirit and approach being applied at E1 to optimize the performance and efficiency of sustainable marine mobility is good news for our oceans."
No caption will ever quite capture the feeling behind this face. Photo: Kelly Defina (Getty Images)
When the season gets under way, the team fielded by Nadal will go head-to-head with up to nine other squads. So far, two teams have confirmed an entry in the sport. These include the Venice Racing Team and an outfit fielded by Red Bull Formula 1 driver Sergio Perez.
E1 was founded by Formula E and Extreme E boss Alejandro Agag. So, it should come as no surprise that the race weekends will look very similar to those of Extreme E, just with a bit more water.
Each event will take place in cities that best represent its environmental focus. Once set up, teams will take part in head-to-head qualifying formats, before quarterfinal and semifinal races determine which four teams will fight it out for the win.
Coming to an ocean near you. Photo: UIM E1 World Championship
And much like Formula E and Extreme E, the crafts teams race in E1 will also look pretty sleek. Dubbed the Racebird, the hydrofoil boat is powered by an all-electric setup developed by Mercury Racing.
When it hits the water, the vessel will be capable of speeds up to 50 knots, which is roughly 58mph, thanks to its 150kW motor.
Nadal has already teased the design for his Racebird, which will be finished in a sleek black and gold livery when it takes to the water later this year.
So, with superstars like Rafael Nadal and Sergio Perez signed up to field teams in E1, is that enough to get you to tune into the first race of the all-electric speedboat race? And, if not, what would it take to get you on board with this all-new race series?