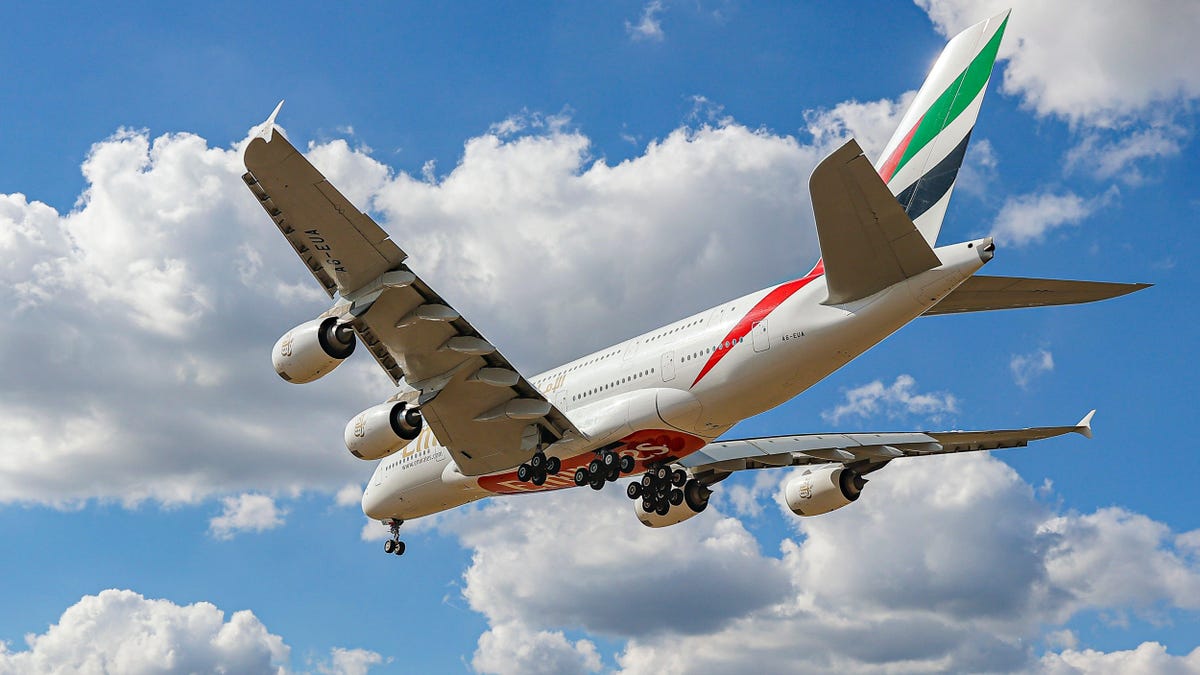 Emirates Airbus A380 aircraft as seen flying for landing at London Heathrow Airport LHR as it is arriving from Dubai UAE DXB.Photo: Nicolas Economou/NurPhoto (Getty Images)
It's not easy, chopping up the world's largest passenger aircraft and sorting through the bits, but someone has got to do it.
The Airbus A380 jet is a titanic aircraft that went out of production in 2021. Despite the aircraft gaining new popularity among airlines, especially due to the industry-wide shortage of aircraft, the giant is still being chopped up far ahead of schedule, CNN reports. Some are too expensive to operate with its giant four engines and heavy payloads, and some were simply parked too long during COVID-19 lockdowns. But all these big aircraft not being used anymore have to go somewhere.
So how do you throw away a 73 meters long, 24 meters high, 509-passenger aircraft? Tarmac Aerosave, an aircraft salvage company partially owned by Airbus, told CNN that there isn't a ton of demand of the A380's parts, there's plenty of materials to salvage—and it manages to recoup more than 90 percent of the plane's weight:
Due to the massive size of the A380, which has 120 tons of aluminum alone, this phase lasts months, and is particularly challenging. Roques explains: "Because it's such a large aircraft, you need a large facility, and you need to adapt your tooling and your methods to something that's very big. You also have to be careful in terms of safety and work environment, because when you've got a mechanic working on the second deck of the aircraft, that's really high."

Tarmac says that it commits to recycling "up to the last screw," and although no specific regulations exist in the field, it aims to recover over 90% of the aircraft by weight. "The remaining waste is as minimal as possible. Of course, some composite material or some dangerous goods that cannot be recycled will remain, but we're talking about a small percentage, like 1% to 3%, that will be residual waste or go to landfill," adds Roques.

The cost of the operation is in the "six figure" region, he says. It's heavily dependent on the number of parts that need to be removed from the aircraft — and that can vary based on the requirements of the client.
But sending all the expensive metals to the smelter and intricate parts to other planes isn't the only way Airbus is breaking down planes. Earlier this fall, the jet manufacturer held an auction where aviation enthusiasts could bid on everything from an A380 door stoppers to a legendary seven-foot high bar from the first class cabin of a United Emirates plane.
A good airplane doesn't die, it simply flies away, and that goes for the A380. Airbus is breathing new life into the first aircraft to ever roll off the production line by outfitting it with experimental, zero-emissions technology.