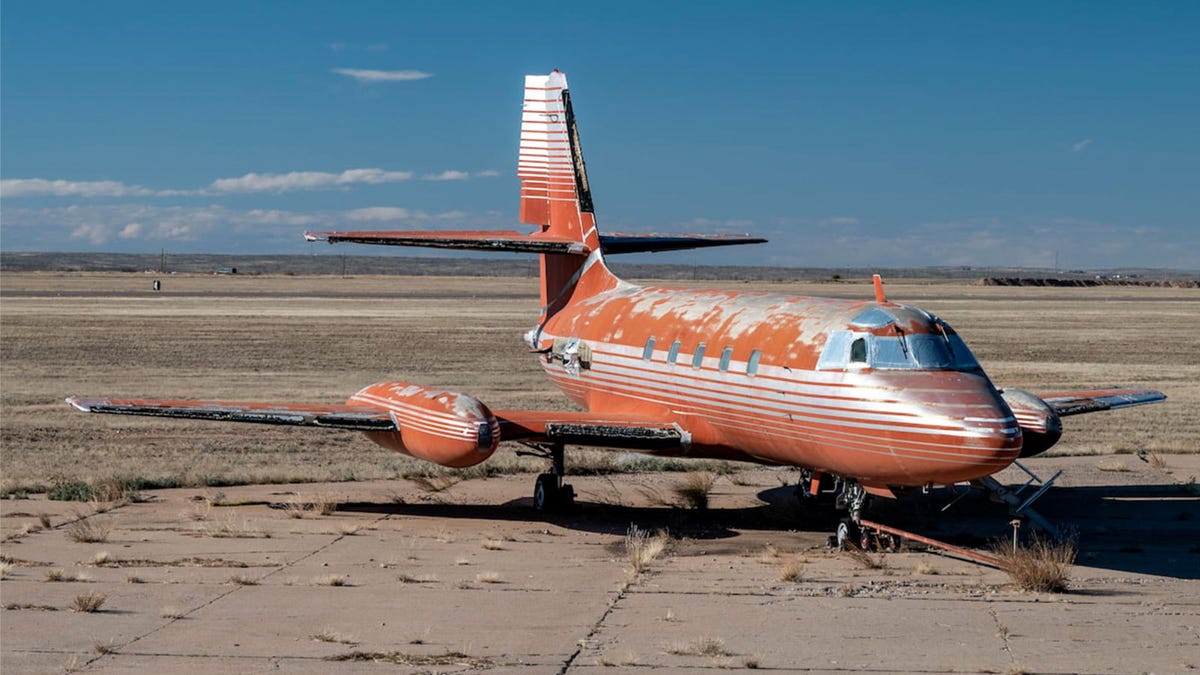 Forold plane, or a brand new McLaren? Photo: Mecum Auctions
Is there anything that's been previously owned by a famous person that you'd like to get your hands on? Maybe the guitar Paul McCartney wrote "Blackbird" on? Or perhaps an old race car driven by Michael Schumacher? What about an old jet that once belonged to Elvis Presley?
One lucky-ish buyer is now living out that fantasy, after placing the winning $260,000 bid for Presley's 1962 Lockheed 1329 JetStar airliner at a Mecum auction in Florida, according to Robb Report. But what did that happy bidder get for roughly the same price as a brand new McLaren Artura?
Well, it's a sorry sight, if we're honest. Sure, the plane was owned by The King himself and had a pretty swanky interior in its heyday. But, it's been decades since Elvis bought the jet in 1976 for $840,000.
I'm no pilot, but I think there are some pieces missing? Photo: Mecum Auctions
As such, it's in need a of (quite) a bit of TLC, you might say. For starters, it hasn't got its Pratt and Whitney engines anymore. That will make moving it from the Roswell International Air Center in New Mexico, where it's sat for 40 years, a bit of a challenge for the new owner.
The craft is festooned with rust and flaking paintwork. It's also had most of its cockpit removed so even if it did still have a motor, piloting it wouldn't be easy. But, the new owner will be pleased to hear that inside the rest of the plane is a slightly better story. There's unctuous velvet seating for six, which also features gold hardware, such as seatbelt buckles.
Wood cabin paneling and trim also surrounds a retro TV, and there's an onboard bathroom. The plane also comes with all the essentials, like a built-in microwave, VCR player and even a cassette deck. Luxury.
If these seats could talk. Photo: Mecum Auctions
So, it's definitely a fixer-upper, or an "incredible restoration opportunity, as Mecum Auctions said in the listing. But what would you do with this $260,000 piece of rock and roll history?
My fellow Jalopnik writers thought it could be turned into a house, or you could make it into a tiny wedding venue similar to this jumbo offering in the UK.
Elvis Presley – Can't Help Falling In Love ('68 Comeback Special)
Regardless of you, or the actual buyer's, plans for the plane, don't expect it to be a big moneyspinner. Where Elvis bought it for $840,000 in the 70s, it was sold to its last buyer for $430,000 in 2017. Now, after covering no additional air miles, it's dropped a further $230,000 off its value.
Maybe stick to trading old Elvis merch or even his lost teeth if you want to make a quick buck off The King of Rock 'n' Roll.