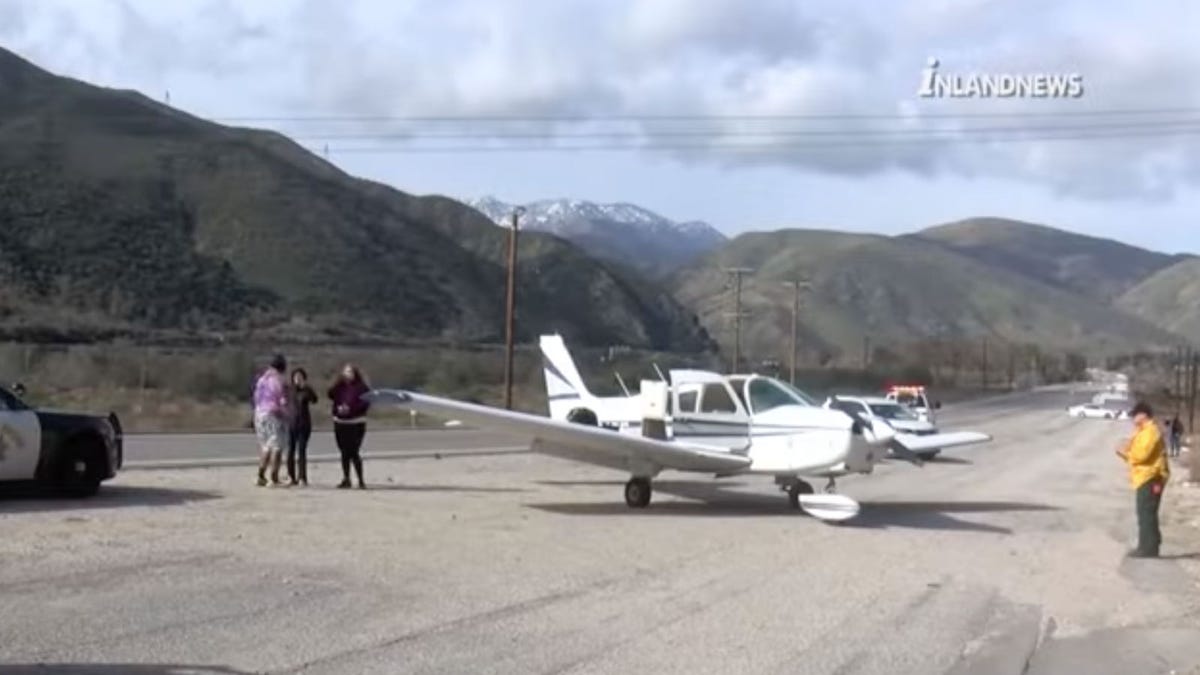 Brock Peters landed his Piper PA-28 on the highway. Screenshot: CBS News
What were you up to four months after passing your driving test? Cruising 'round town, taking your pals to the drive-in movies? Well, in the world of newly-qualified pilots the stakes are a touch higher, as one teenage pilot found when his engine failed midair.
According to CBS News, 18-year-old Brock Peters had been flying his family around in a Piper PA-28 light aircraft. While flying his family from Apple Valley Airport to Riverside Airport in Southern California, Peters said he "heard a boom" and then lost engine power. CBS News reports:
"In dire straits, Peters mustered everything he could recall from his emergency landing training and focused on bringing the plane down safely — especially since his grandmother and two cousins were in the passenger seats.

"Unable to notify a nearby airport tower because of the terrain, Peters called his mom to let her know. He made the decision to bring the plane down in the Cajon Pass on a small frontage road."
Teenage pilot makes emergency landing near Cajon Pass
Peters, who gained his pilot's license just four months prior, told CBS News that he struggled to bring the plane to a halt on the Cajon Boulevard in the San Bernardino National Forest. While he was battling to get the plane safely on the ground, he said he had to "tune out" the sound of his "grandma crying in the back."
He said: "I'm like 'I've got to tune her out, focus on what I need to do and get this plane down safely and make sure everybody is OK.
"I knew I was going to land it, I knew I was going to."
According to CBS, nobody was injured in the incident, and the FAA and NTSB are now investigating the cause of the emergency landing.