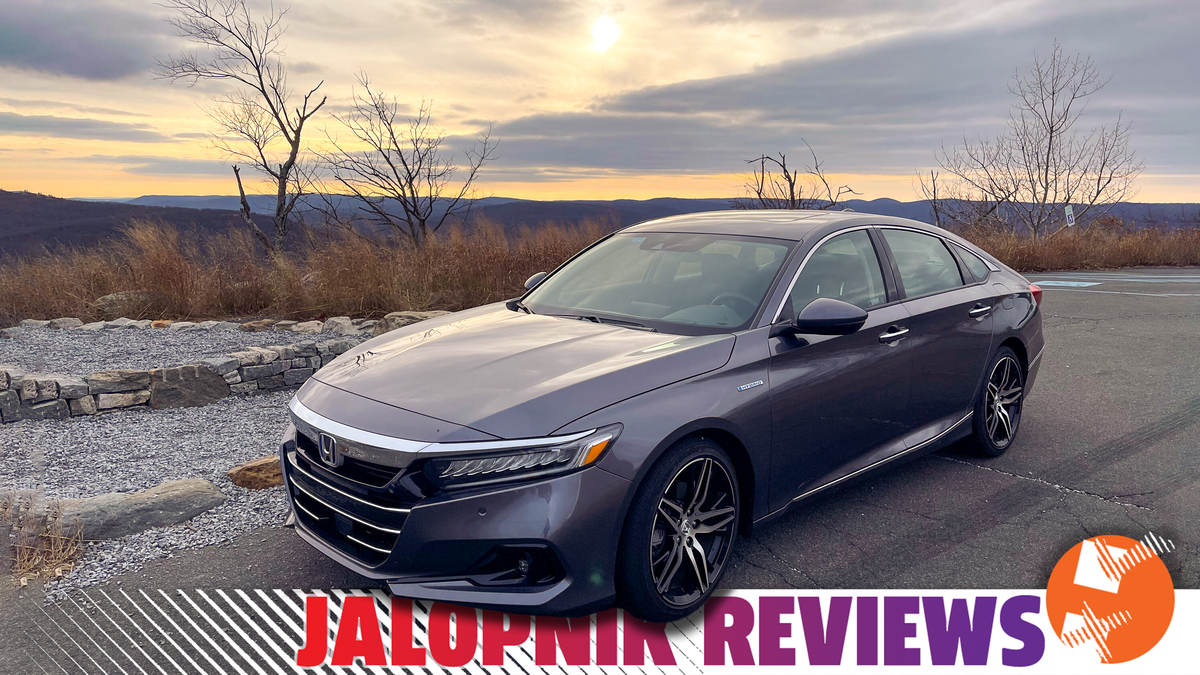 Photo: Andy Kalmowitz
All good things must come to an end, and so we must say goodbye to the 10th-generation Honda Accord. When this car launched in 2017, it ushered in a new standard for midsize sedans. Hell, it even bumped up against some legit premium offerings, as well.
Since then, the Accord's long, sleek design, big wheels and LED headlights have become have become ubiquitous on American roads. The 10th-generation model made the Accord cool again. Nearly six years later, very little has changed, but all of the Accord's best attributes are still there. So ahead of the 2023 model launching later this year, let's take a final look at the current generation's swan song: the fully-loaded Accord Hybrid Touring.
Full Disclosure: Honda was gratuitous enough to lend me an Accord Hybrid and a full tank of gas for a few days to give it a proper goodbye.
Aging Gracefully
Photo: Andy Kalmowitz
G/O Media may get a commission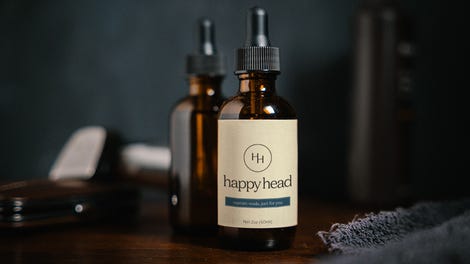 Grow those luscious locks back
This proprietary, prescription-grade topical Finasteride is proven to regrow hair in just a few months.
Despite its age, the Accord has the same amount of presence it's always had, and still looks better than primary competitors like the Toyota Camry or Nissan Altima. The Accord's flowing lines sweep directly into its angular front and rear ends, giving it a much more premium look than one would expect for a car that starts at $27,720. In all honesty, this Accord could come out today and it would look every bit as contemporary as the other vehicles on the road. I suppose you could call it timeless. None of this is to say the upcoming 11th-gen car doesn't also look great — it does — but it isn't quite as eye-catching and expressive as its predecessor.
Photo: Andy Kalmowitz
Stepping inside the current Accord reminds you just how good a well-thought-out interior can be. Everything has its place. Buttons are where you want them, and the touchscreen does not overwhelm the experience. Even on my fully loaded tester, which comes in at $38,685 (including $1,095 for destination), the Accord feels worth every penny and then some. I've spent time in cars that cost more than twice as much as a fully loaded Accord that don't look and feel as good.
The Accord's interior is spacious enough that you and three of your portly friends can ride around in total comfort, and a fourth wouldn't be too cramped. Headroom, legroom and shoulder room are all excellent, but they should be, since the Accord is larger than most other midsize sedans (the EPA actually classifies it as a "large car"). There's nothing wrong with that, though. At its core, the Accord is meant to be a tool to move people and stuff, and that's what it does best. Plus, it has a huge trunk.
The Tech Ain't Too Bad
Photo: Andy Kalmowitz
When a car reaches the end of its lifecycle, one of the things most in need of updating tends to be the onboard technology. But like most other aspects of the Accord, that really isn't a problem. Nearly all of the tech in the Accord – whether it's the infotainment or driver-assistance suite – is up to par with the rest of the midsize sedan class.
The 8-inch center touchscreen, while smaller than a lot of the more cutting edge stuff in the auto industry, is refreshingly simple to use. Apple CarPlay and Android Auto connect quickly and easily (and wirelessly on this Hybrid Touring), and when you're buying a – let's be frank – appliance car, you really just want that stuff to work.
Photo: Andy Kalmowitz
Since this is the Touring model, it comes with a head-up display, wireless smartphone charger, extremely comfy 12-way heated and cooled seats and onboard navigation. On top of that, the Touring also has a 450-watt, 10-speaker audio system so you can pump up the jams.
The Accord also comes standard with Honda Sensing, which is the company's safety suite. It includes adaptive cruise control that handles stop-and-go traffic by itself, lane-keeping assist and blind-spot alerts, among a few other niceties. To me, the most important thing here is the adaptive cruise control, which works brilliantly.
Photo: Andy Kalmowitz
If there's one area where the Accord is starting to show its age, it's the gauge cluster. The Accord uses an LCD screen for a combination tachometer, hybrid info and trip computer, next to an analog speedometer. That's not something you see too often anymore, and while it may have been a modern look in 2017, it feels a little bit out of place now.
Hybrid Moments
Photo: Andy Kalmowitz
The one thing that really sets the Accord apart from the competition is its brilliant hybrid powertrain. I say it's brilliant because it completely falls to the background; it's never a problem or an annoyance. The 2.0-liter Atkinson-cycle inline-4 and electric motor work together in perfect harmony to make a combined 212 hp and 232 lb-ft of torque. That's enough power to motivate this 3,500-pound sedan down the road with decent quickness. It won't set your hair on fire, but the Accord Hybrid has more than enough power for what the average buyer will need.
On top of that, the Accord Hybrid returns some rather stellar gas mileage. The EPA claims this sedan will achieve a combined 43 mpg, and even if you drive like a dickbag, you will struggle to get that number to drop below 40 mpg. I should note that lower-spec Accord Hybrids are able to achieve 48 mpg combined; the Touring's deficit is due to its larger wheels.
Photo: Andy Kalmowitz
The Accord Hybrid also offers four levels of mild regenerative braking, controlled via paddles on the steering wheel (sadly, with a continuously-variable transmission, there are no gearshifts to be had via the paddles). You won't get anywhere near one-pedal driving, but you can certainly feel the regeneration slowing the car when you lift off the throttle.
I would never describe the Accord Hybrid as a particularly sporty car. That being said, it'll get around a corner well enough, and it's just about the best steering feel you'll get from a car in this segment. If you catch yourself on a twisty backroad in this big sedan, you won't feel completely out of place.
Saying Goodbye
The 10th-generation Honda Accord was and is the standard bearer for midsize sedans. The fancy new 11th-gen car might be right around the corner, but that doesn't make the old car any less great.
2022 Honda Accord Hybrid Touring Sedan Specs
Engine type
Gas/Electric I-4
Transmission/Drive
CVT w/OD