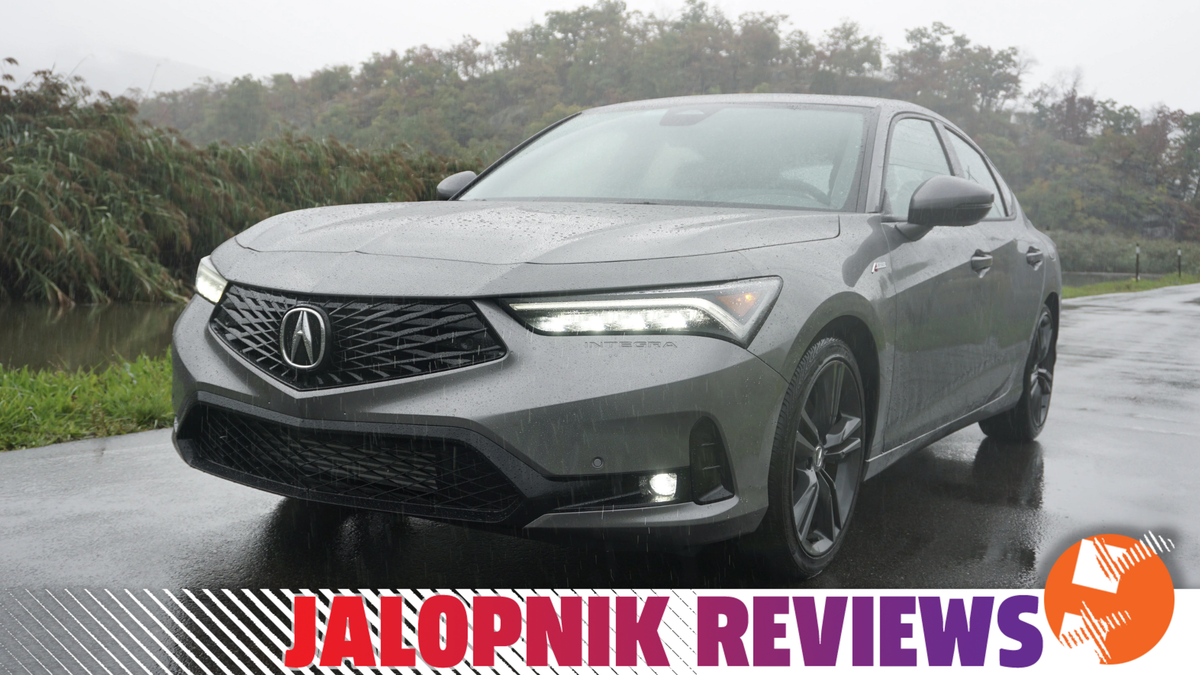 It rained every single day I had this car.Photo: Andy Kalmowitz
Growing up sucks, but the Acura Integra is a car that can ease the transition from adolescence into adulthood. Few vehicles hit that sweet spot between young and sporty and old and comfy, but an Integra A-Spec with a six-speed manual transmission makes shifting into your more mature years that much easier.
Full Disclosure: Acura lent me an Integra A-Spec with a full tank of gas to do as I pleased for a week.
Blending Sportiness and Practicality at a Price
Photo: Andy Kalmowitz
The Integra is fantastic to drive. It's light on its feet. You can flick it around a corner a bit too fast, and despite the fact it's a front-wheel drive car, it won't wash out in a mess of understeer. If you put it in Sport mode, the Integra wakes up even more. However, the adaptive dampers make the suspension a bit bumpy at that point. It doesn't ruin the experience by any means, but there's a better option: Individual mode. Basically, you can put every setting in full-kill Sport mode other than the suspension, which should stay in Comfort. This makes the whole experience just that little bit better.
Photo: Andy Kalmowitz
G/O Media may get a commission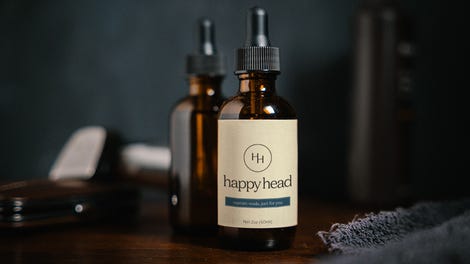 Grow those luscious locks back
This proprietary, prescription-grade topical Finasteride is proven to regrow hair in just a few months.
But even when you're putzing around town, the Integra provides enough excitement to make daily driving more fun. A revvy, decent sounding engine, a lovely-to-use manual transmission and a slick limited-slip differential all work together beautifully, letting you have a good time on the trip to the grocery store.
All of that peppy energy comes from a brilliant little 1.5-liter turbocharged inline-4 that puts out 200 horsepower and 192 lb-ft of torque. That may not sound like much – and it really isn't in this day and age – but the Integra A-Spec never once feels slow. Power comes on smoothly, but it isn't exactly linear. You can definitely tell this little guy has a turbocharger strapped on. You get a nice little surge off the line, but in a not-very-Honda-way, the power sort of dies up at the top of the rev range. If you're willing to floor your Integra, you can motivate it from a standstill to 60 mph in 7.7 seconds, according to the automaker.
Photo: Andy Kalmowitz
Despite this sporty energy, the Integra calms down when that's what you want. On a long drive where, you just want some goddamn peace and quiet, the Integra does a masterful job of scooting you along with very little fuss. This is where the car's excellent adaptive cruise control and lane-keep assistance systems come in. And yes, despite the fact this car has a manual, it still has radar cruise that works at speeds above 25 mph. I know that isn't exclusive to the Integra, but it really is such a nice little treat. This adaptive cruise system can't bring you to a complete stop, but it will absolutely modulate your speed on the highway when you're following someone.
I Get Honda's Manual Now
Photo: Andy Kalmowitz
I've long heard the hyperbole surrounding the brilliance of Honda's manual shifters, but for the most part, I dismissed it. Well, I'm here to tell you that the Integra's six-speed is every bit as good as you've heard. Every single shift feels mechanical and purposeful. It feels phenomenal. Even the shifter itself is made of metal and leather that feels incredibly well made.
Honestly, I can't imagine buying an Integra with the continuously variable automatic transmission. The six-speed manual is so smooth, forgiving and easy to operate that even a novice stick-shift driver would be quick-shifting in no time. People often talk about not getting a manual because they're stuck in traffic a lot. Don't use that as an excuse if you're looking to buy an Integra. The clutch is light and easy to use, and the automatic rev-matching feature (which you can turn off) smooths out your downshifts, which is great.
Lookin' Good
Photo: Andy Kalmowitz
Looks are obviously subjective, but I don't really understand folks who say they don't like the new Integra's design. One thing's for sure, the Integra is visually different enough from its lesser Honda Civic sibling that no one will ever get the two confused.
I just wish the same thing could be said from the inside. I like the way the Integra's interior looks and feels, but it's largely a copy of the Civic's. Despite that, Acura seems to have done enough to at least justify the price delta between the Civic Si and an Integra A-Spec. You get things like a fully digital gauge cluster, heated leather seats, a head-up display and a better stereo.
Photo: Andy Kalmowitz
There's enough leather and metal in here to make you feel like you're in a car that costs more than the $37,395 (including $1,195 for destination) vehicle you paid for, and who doesn't love that? Plus, on top of all that entry-level luxury goodness, you get the better-looking and more functional hatchback body style. Civic Si buyers are stuck with a sedan.
Not everyone will be a fan of the Integra's aggressively red interior, but to me it just works. That's especially true when you consider the rather subdued exterior color. Is it for everyone? Probably not, but it is certainly in keeping with the tone of the car: grown up, but still down for a party.
Photo: Andy Kalmowitz
If I had but one complaint when it comes to the Integra's interior, it would be the use of piano black plastic. I know it's the trendy move when it comes to entry-luxury cars right now, but it just gets so icky after only a few days of use.
The hatchback body style means you get a ton of bonus cargo room while also getting the benefit of a sleek, more curvaceous silhouette. That's a win-win, if you ask me. You've got room for all your friends and their stuff, but the Integra doesn't look bulbous at all.
It's an Integra, Dammit
Photo: Andy Kalmowitz
Is this Integra the balls-out, bright yellow, 8,000-rpm Type R monster of your youth? Certainly not. But it isn't meant to be. There will be another one of those coming very soon, and this Integra more than lives up to the promise of its non-Type-R predecessors.
The new Integra is a more mature car than it was before, but it hasn't lost its sporty edge. It's a car you can grow into, and grow up with.
2023 Acura Integra Manual w/A-Spec Tech Package Specs
Engine type
Intercooled Turbo Premium Unleaded I-4
Transmission/Drive
Manual w/OD