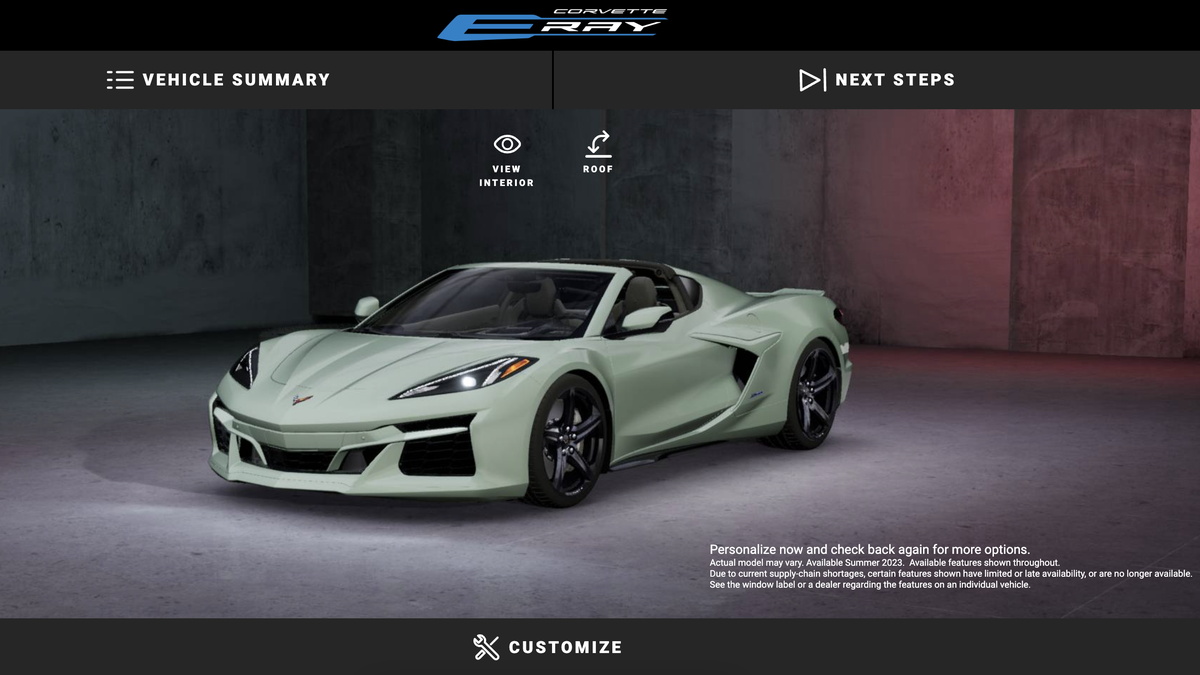 Screenshot: Chevrolet
In December of last year, several Corvette forums noticed the E-Ray visualizer had gone live prematurely. Several people were able to get screenshots before Chevrolet took it down, giving us all an idea of what options would be available. Now that the 2024 Chevrolet Corvette E-Ray has been officially revealed, though, the visualizer is back online and ready for your dream car-customizing enjoyment.
Unfortunately for fans of the convertible, you can currently only configure the coupe, although the site does promise the convertible visualizer will be available soon. Also, while we already know the coupe will start at $104,295, and the convertible at $111,295, the pricing for individual options still hasn't been announced. But something tells us the price of fancy paint option is probably going to be a lot less relevant to what an E-Ray actually costs compared to how big a markup the dealer charges.
Speaking of paint options, there are 14 to choose from. Some are the same ones offered on the regular Corvette Stingray, but there are a few that are unique to the E-Ray, including Cacti and Sea Wolf Gray Tri-Coat. At the very least, we say go with something fun. There's nothing objectively wrong with black, gray, and white, but you're buying a Corvette for Pete's sake. Live a little! You'd look great behind the wheel of a Riptide Blue Metallic Corvette.
There are also six wheel options: three aluminum and three carbon fiber. Inside, there are technically 10 color options, but it's really only six if you don't consider "Jet Black with Red Stitching" to be a completely different choice than "Jet Black." Finally, there are three interior packages you can choose to add, including two different carbon fiber options.
So how would you spec your hypothetical new E-Ray? Are you going to be bold and pair Cacti paint with Artemis leather, the Stealth trim package, and carbon fiber wheels? Maybe something a little more subtle? Let us know what you picked down in the comments.