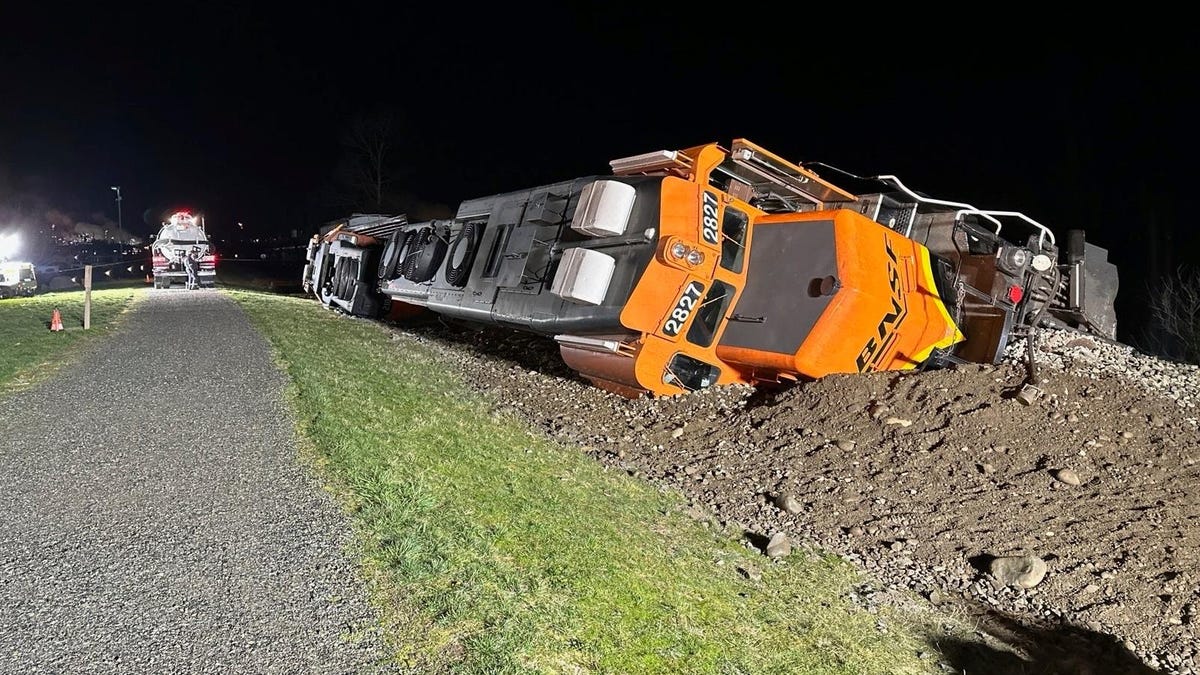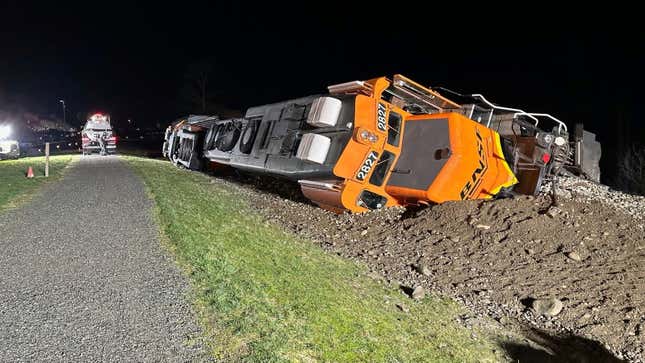 Photo: Washington Department of Ecology via AP
Train derailments are never a good thing, but some are objectively worse than others. Take the latest one in Washington state. The Associated Press reports that a BNSF train derailed and is now spilling diesel fuel on tribal land along Puget Sound. Right now, no injuries have been reported, and the cause of the derailment hasn't been released yet.
In case you missed it:
The AP says the train derailed on a berm (a flat strip of land, raised bank or terrace that borders a river or canal) along Padilla Bay on the Swinomish tribal reserve near Anacortes, Washington. Most of the 5,000 gallons of diesel onboard the train spilled on the land side of the berm and not toward the water.
According to the AP, officials on site say there are no indication that the spill reached the water or impacted any wildlife in the area. Responders reportedly placed a boom along the shoreline as a precaution and removed all the diesel that was left in the two locomotives that derailed. Luckily, four tank cars remained upright during the incident.
This isn't actually the only BNSF train derailment that happened on Thursday. Another train in Arizona that was carrying corn syrup derailed near the state's border with California and Nevada. In a bit of good news, there are no reports of spills or leaks at that incident. However, the estimated eight cars that derailed were blocking the main track, and there's no word when it'll reopen. Like the other derailment, there's no info on exactly what caused the incident.
G/O Media may get a commission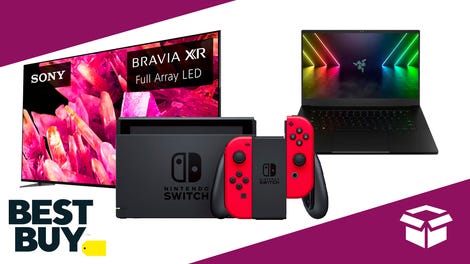 Three Day Sale!
Best Buy – 3-Day Sale
Big sale! Three days only!
Best Buy's exclusive three-day deal touches every category sidewide. If there ever was a time to buy some tech, it's now.
These derailments, of course, come at a time when there's heightened scrutiny on rail safety across the U.S. following the disaster in East Palestine, Ohio. It probably will come as no shock to you to learn that on average, according to the AP, the U.S. has about three train derailments per day.