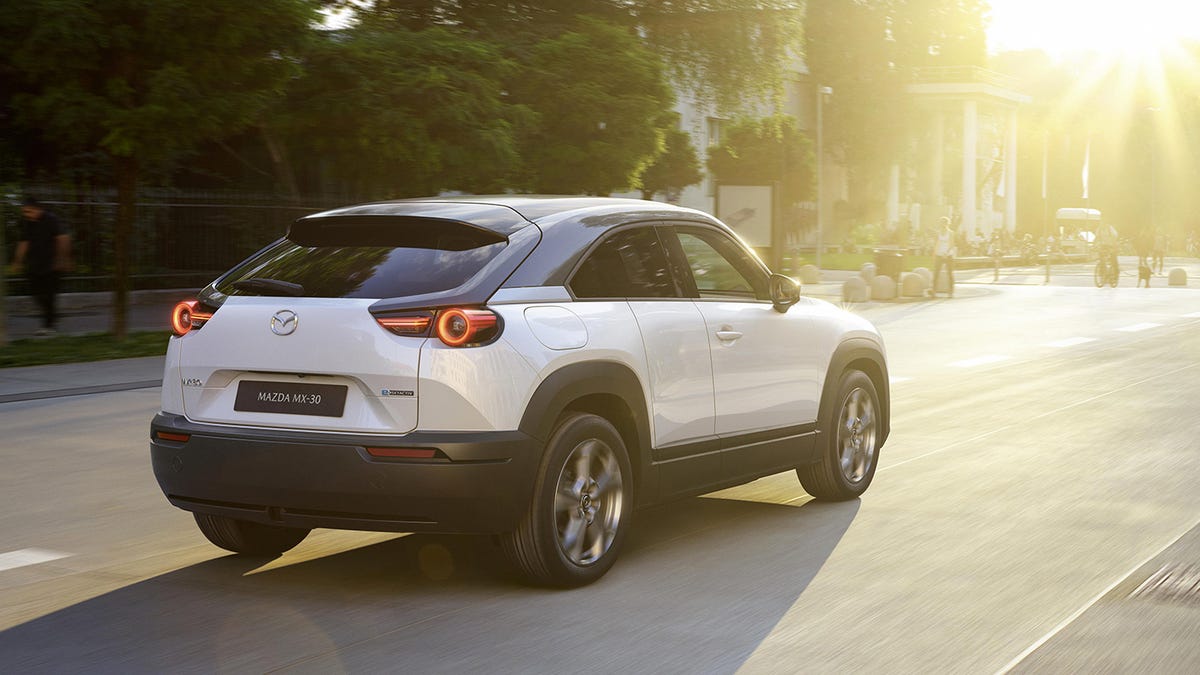 Image: Mazda
On Monday we learned that Mazda is finally ready to show the world the rotary-assisted version of its MX-30 electric crossover. That'll happen on Friday at the Brussels Motor Show. But the company never explained the fate of the MX-30 on our shores, as the 2022 model unceremoniously sold out after 505 units were moved in California, and the 2023 version hadn't yet been officially announced for sale here. Yesterday, Mazda quietly put the big question to rest in the form of a press release. The MX-30 is back and once again, only in the Golden State.
For 2023 the MX-30 gets $740 more expensive, starting at $35,385 including destination compared to $34,645 for last year's model. It does this despite no obvious enhancements over last year's model. The 100-mile range and performance are the same, and once again, there's a Premium Plus package on offer that adds a 12-speaker Bose sound system, 360-degree camera and extra i-Activsense safety tech like Blind Sport Assist and Front Cross Traffic Alert.
Of course, what we're all really wondering is whether the plug-in hybrid rotary version will also arrive in the U.S. in 2023, in which case, I'd actually feel some FOMO over the MX-30 being California exclusive. But Mazda North America isn't ready to talk about that yet, telling Electrek the following:
We have no update to share on the US availability of MX-30 PHEV. Globally, Mazda introduces models and powertrains to markets based on a multi-solution strategy that considers regional differences in energy production, environmental regulations, and customer needs. In the U.S., we're currently focused on electrifying our upcoming CX-90 and CX-70 that will debut this year.
I wouldn't say this dooms the MX-30 R-EV's American prospects quite yet. The car still has to be formally unveiled first, and there's nothing saying the corporate line can't change weeks or months into the year. But if Mazda really set about making a long-range version of its short-range EV and decided against selling it in our distance-critical market, I'll have no words.