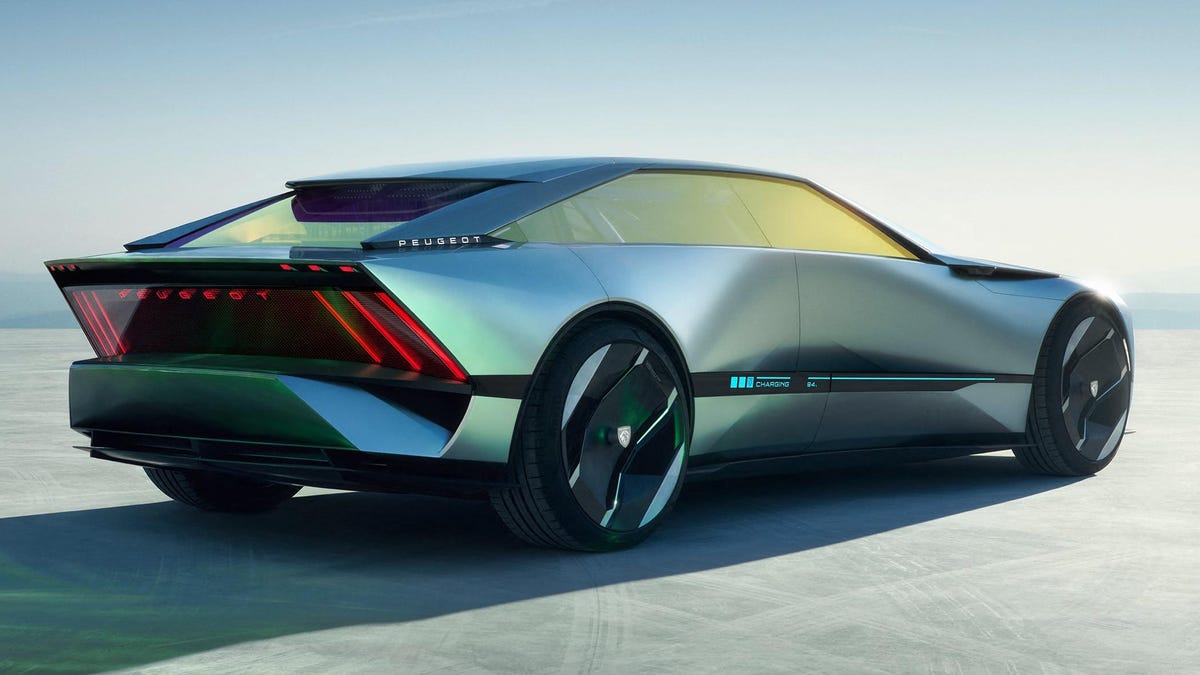 Photo: Peugeot
The Peugeot Inception is a concept car that Peugeot unveiled at CES on Friday that is both futuristic and also a little retro-feeling, the sort of car a child might make if tasked with making a car from the future. The Inception will also, Peugeot said, be the inspiration for every Peugeot from 2025 going forward, even the compact ones.
That doesn't mean that every car Peugeot makes from 2025 will look exactly like this, but it does mean that Peugeot's cars will be taking a lot of design inspiration from it. Also like those cars, the Inception is all-electric, with a range of up to 497 miles, Peugeot says, and capable of going from zero to 62 mph in less than 3 seconds. The Inception is all-wheel drive.
Those are all standard, if aspirational, features on many a future EV; what helps the Inception stand out is its design, like its steer-by-wire steering wheel, which is not a wheel, and also sort of not a yoke. Peugeot calls it "Hypersquare," and I despise it.
Photo: Peugeot
Quoth Peugeot:
With its new Hypersquare control system, the PEUGEOT INCEPTION CONCEPT offers enhanced on-board sensations thanks to an agile driving experience and an all-new, more intuitive i-Cockpit®. With the touch of a fingertip, you control all driving parameters and steer-by-wire technology makes driving more instinctive and simpler, like a video game but in real life. The ultimate ergonomics of the Hypersquare, which replaces the classic steering wheel, creates a new, natural, simpler and safer way of driving. New movements for new driving pleasures, providing an unequalled comfort in driving.

The Hypersquare with digital electric controls consists of a screen with circular cells in each of its four corners which have several functions:

The completely natural and universal grip of the steering control,

Fingertip driving comfort,

Activation of the vehicle's controls by pressing with the thumb.

Similar movements to how we use our smartphones. The intuitive aspect creates a high level of safety.

The centre of the Hypersquare is a tablet-type screen dedicated to the distribution of control information. The pictograms for the different features (air conditioning, radio volume, ADAS, etc.) are displayed on the two side panels to facilitate access to the chosen control. The latter is located inside the circular recesses and can be accessed by moving the thumb only, without taking your hands off the steering control. For even more driving comfort, the rim of the Hypersquare is made from 3D printing, while in its centre, the digital glass screen provides a high-tech appearance.
G/O Media may get a commission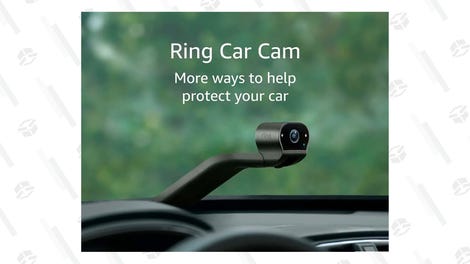 $50 off preorder
Ring Car Cam
It's a camera. For your car.
The Ring Car Cam's dual-facing HD cameras capture activity in and around your car in HD detail.
It's not clear to me how much of this is simply showing off in a concept car that will never go to production, but, as with other such efforts, reinventing the steering wheel is a thing that no one has ever asked for, which won't stop automakers from trying.
Elsewhere, Peugeot says that they have made a new driving position, and put glass everywhere, glass inspired by the glass on the helmets of astronauts. They got rid of the dashboard, too, and put everything a little bit lower. You're supposed to be immersed in this car, er, immersed in the world outside of it.
Photo: Peugeot
Outside: More design choices, like something called a "fusion mask," which is Peugeot's way of making all the sensors and cameras and whatnot on modern cars look elegant. The color, which is a single coat of paint, is exclusive, of course. Also, we're all getting ever closer to becoming David Hasselhoff.
A TECH BAR runs horizontally through the door layer. This flush screen emits different messages to the outside of the car when the driver and passengers approach it. The artificial intelligence equipped on the PEUGEOT INCEPTION CONCEPT makes it possible to recognise the driver in order to set up the comfort settings (seat posture, temperature, driving mode and multimedia preferences) desired by each occupant.

In addition to the battery charge level, the TECH BAR also has the usual welcome and goodbye messages, as well as the many sensors and radars linked to the driving delegation, leaving the bodywork completely smooth, as it is devoid of these technical elements. The lower part of the doors widens and stands out clearly to improve aerodynamics in this very sensitive area.
If you're in Las Vegas for CES, you can see the Inception in person, which would be cool until you realize that you are in Las Vegas for CES. The Inception is also a little too angular and sharp to love, though I'm excited to see future Peugeots. They will at least be interesting, as long as Peugeot sticks to its inspiration.
Photo: Getty Images (Getty Images)