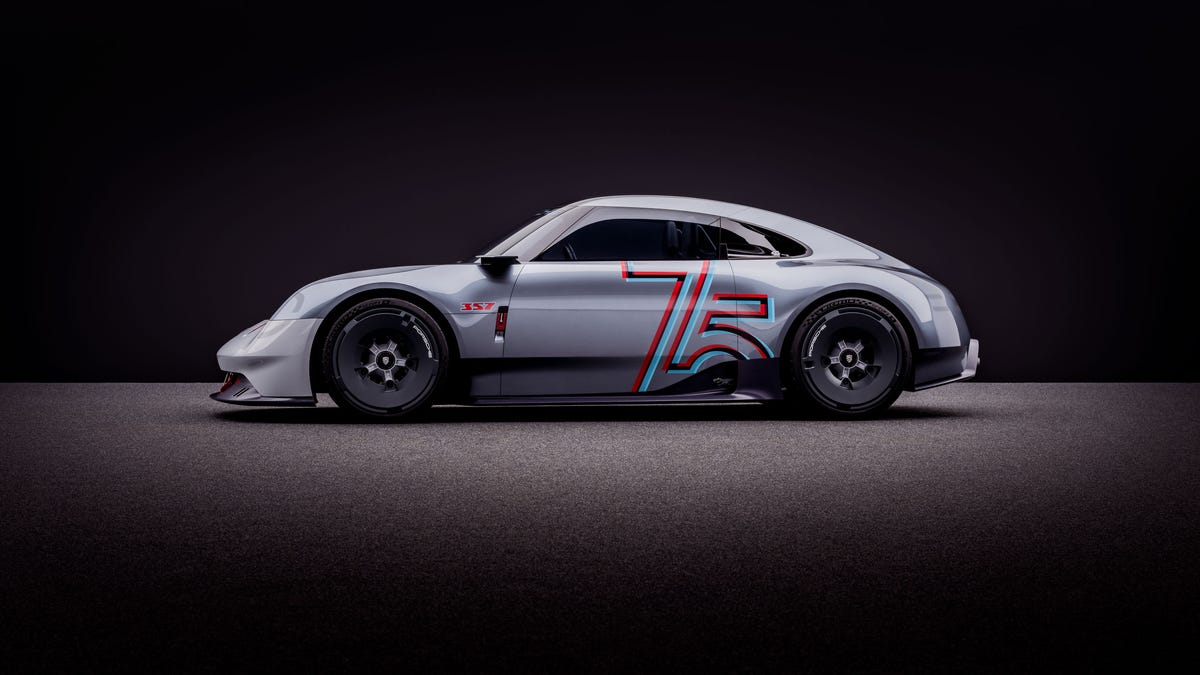 Photo: Porsche
There's a lot to unpack about the Porsche Vision 357 concept, but the coolest detail is an unexpected bit of whimsy: cartoon dinosaur stickers on either side of the concept car. It's a clever nod to the fact that, despite looking all new and futuristic, the Vision 357 is all about celebrating Porsche's past.
Making its debut Wednesday, the Vision 357 is a modern interpretation of Porsche's first sports car, the 356. It's based on the Porsche 718 Cayman GT4 RS, meaning it uses a 4.0-liter naturally aspirated flat-6 engine – the same one you'll find in the 911 GT3 road car and GT3 Cup race car. This free-breathing, gasoline-fed engine produces 493 horsepower, and it's where that dinosaur decal comes into play.
Photo: Porsche
"We said, 'Wow, okay, if we show in 2023 a car with a combustion engine, shouldn't it be an EV?'" Michael Mauer, the vice president of Style Porsche and head of design for the Volkswagen Group, told reporters in an interview last week. "Somebody said, 'Oh, but that's like a dinosaur,' and a designer just did this little sketch." Mauer said the dinosaur serves as a reminder that "we should not always be so serious" and that the designers "should express the fun and passion we had working on this project."
Indeed, the Vision 357 concept is full of fun little details. There are air poof drawings behind the side windows because "the GT4 RS has this air intake in that area," Mauer said, and "it would be a nice hint to the fact that we put it on the RS, that air has to go in there."
G/O Media may get a commission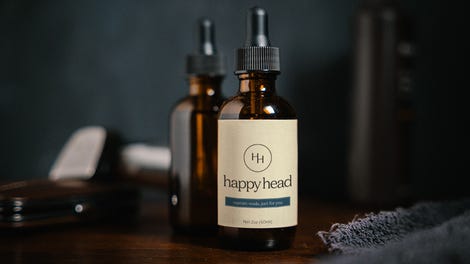 Grow those luscious locks back
This proprietary, prescription-grade topical Finasteride is proven to regrow hair in just a few months.
Photo: Porsche
The original 1948 Porsche 356 No. 1 was a roadster, but the Vision 357 is obviously a coupe. Mauer explained there's no big reason for this change in body style. "We would like to do a coupe rather than an open car," he said. "That was not really a long philosophical or strategic discussion."
Obviously, the link to the 356 is clear, especially in the profile and rear. "This greenhouse that is tapering, the strong shoulders – it has this, let's say, very clean surface treatment. [It's] very sculptural," Mauer said. The magnesium 20-inch wheels have carbon-fiber hub caps and center locks, and an interesting throwback touch: The Porsche 356 A and 356 B had wheels with a 205-millimeter bolt circle, hence the spread-out bolt pattern here.
Photo: Porsche
The Vision 357 does not have an interior, but Mauer said if it did, he wouldn't want it to be just a reskinned version of the Cayman GT4 RS. "I would prefer, how the exterior has this clear link to the 356, to do something that as well has this on the interior," he said.
Yes, the Vision 357 is purely a concept; there is absolutely no hint at some kind of future production model. Really, this car is just a way for Porsche to celebrate its 75th anniversary of making sports cars – hence the big "75″ decals on the sides. It's also a way for the company to roll out its extremely cool Renndienst electric van concept one more time, which you can see towing the Vision 357 in some of Porsche's photography.
"The design department is in the beautiful situation where we get a certain amount of money to think about the future of the Porsche brand without the pressure of a start of production, without the pressure of some legal issues or requirements," Mauer said. The Vision 357 exists "to boost the creativity and to make sure we can further develop our design language," even if looking forward means focusing on the past.
Photo: Porsche