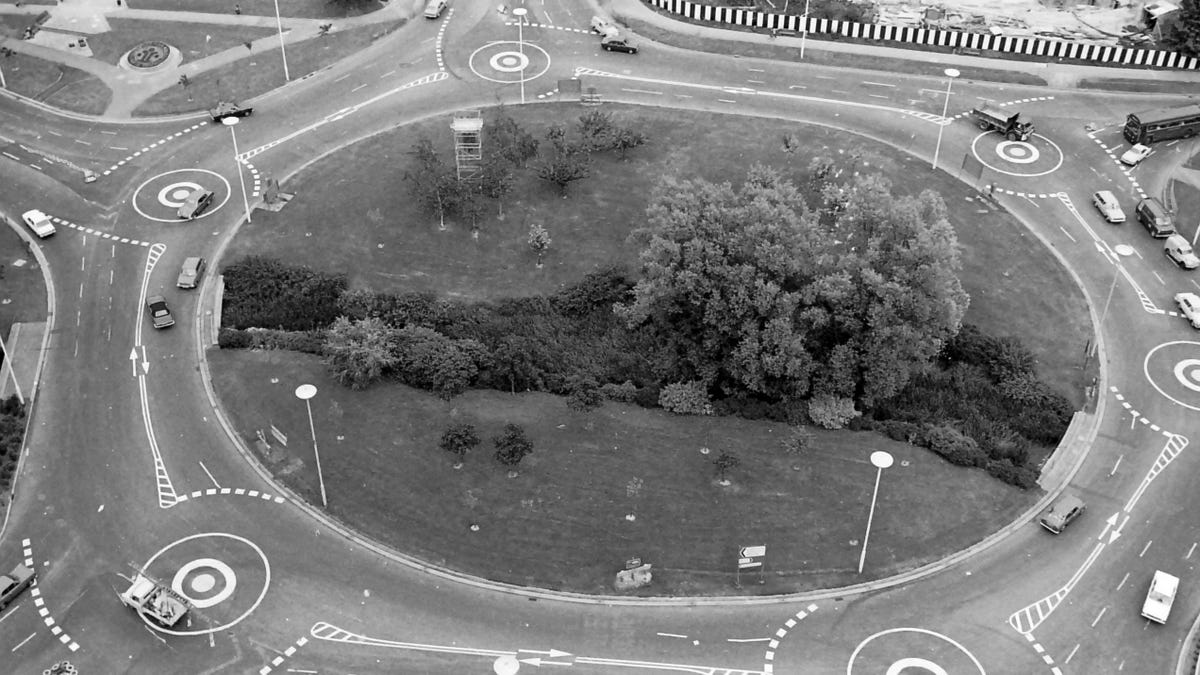 The Plough Road or "Magic" Roundabout, located in Hemel Hempstead, UK in the 1970s. The outer circle ran clockwise, while the inner circles were counterclockwise. According to the caption, several cars in this image are driving the wrong way.Photo: Cathcam via Wikimedia Commons
You may have laughed when my fellow Michigan Jalop, Ms. Erin Marquis, talked about our state's "very special" left turn. But I'm here to second her on our quirky Michigan Left laws, thanks to the antics I've encountered in the many other states I've driven through. Who doesn't love the ability to make a left turn without waiting for a light?
Another way to eliminate the left turn, in a way, is with a traffic circle. Just north of Ann Arbor, Michigan, was one of the pioneer areas to include traffic circles. For the longest time, the only traffic circle in the Mitten resided within the fencing of GM's Milford Proving Grounds.
The ever-challenging Lee Rd traffic circles, along U.S. 23, via Google Map satellite. Screenshot: Google Maps
The "pioneer" public traffic circles at Lee Road consists of two traffic circles connecting to a bridge crossing U.S. 23, which connects to yet another traffic circle. It doesn't help that the signs to navigate these new circles are difficult to decipher, and unless you travel through the roundabouts daily, you would likely find yourself going the wrong way. Having worked in the mall area to the right of the photo, I encountered every possible wrong outcome, including a woman who had to back up across the bridge, because she was coming at me from the wrong direction.
It could be worse. There is the Plough Road Roundabout, also known as the "Magic Roundabout" in the UK, pictured at the top of this article, which is anything but magic. Or maybe you need magic to navigate it?
Anyways, as far as your local driving quirks are concerned, I fear the day I may happen upon your parts of the country or world. Here's what you deal with in your neck of the woods — and may the odds be ever in your favor.