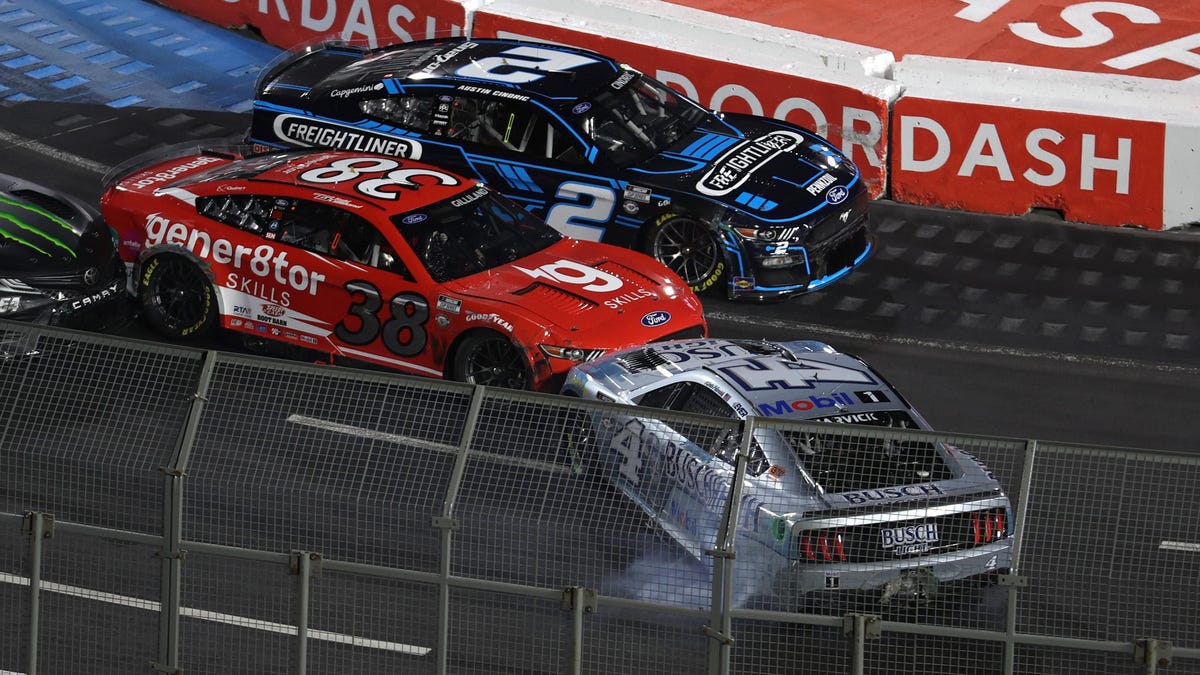 Kevin Harvick, driver of the No. 4 Busch Light Ford, spins after an on-track incident in front of Todd Gilliland, driver of the No. 38 gener8tor Skills Ford, and Austin Cindric, driver of the No. 2 Freightliner Ford, during the NASCAR Clash at the Coliseum. Gilliland was one of two drivers to run out of fuel during the race.Photo: James Gilbert (Getty Images)
The 2023 NASCAR Cup Series season officially kicked off last night with the Busch Light Clash at the Los Angeles Memorial Coliseum, an exhibition event designed to spark interest in the upcoming Daytona 500. Unfortunately for NASCAR, the 37.5-mile race was marred with a whopping 16 caution periods — and two cars ended up running out of fuel.
Both of Front Row Motorsports' two cars — the No. 34 of Michael McDowell and the No. 38 of Todd Gilliland — ended the event with an empty gas tank.
Prior to the final race, FOX Sports commentators joked about the possibility of drivers running out of fuel — as in, 150 laps around the quarter-mile circuit shouldn't result in any issues for teams. Obviously, there are benefits to running a lighter fuel load, but many of those benefits are counteracted by the simple fact that cars can't accumulate any appreciable speed in such close quarters. No one should have run out.
But that was presuming the race would transpire like the inaugural event in 2021. Instead of a relatively straightforward 150-lapper split into two 75-lap heats with a concert in between, we had a wreckfest. Everyone was keen on getting up in everyone else's business, and the race ended with 16 caution flags.
That's when the Clash format started to become a problem. Yellow-flag laps don't count, so every time the cars paced the field after a crash, they really actually weren't progressing through the event. They were just using up fuel.
G/O Media may get a commission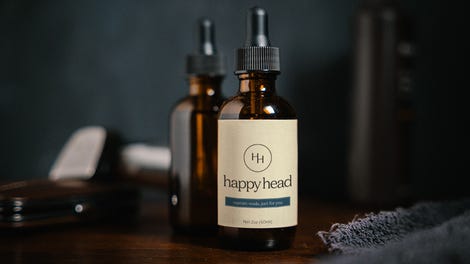 Grow those luscious locks back
This proprietary, prescription-grade topical Finasteride is proven to regrow hair in just a few months.
And, again, that shouldn't have been an issue — but the Clash also includes a series of heat races and last-chance qualifying events just before the main race. Front Row Motorsports saw both of its drivers fighting for a spot in the field in one of two LCQ races. The drivers who competed in the initial heat races were able to refuel before the final event. The LCQ competitors allegedly didn't have time, jumping right from the LCQ to the final. As a result, neither FRM machine had a properly filled tank, and both of its drivers ended the race early with nothing left.
Of course, the FRM drivers weren't the only ones who went right from LCQ to race, so if that fuel situation was a concern for everyone, we'd have seen a lot more folks cruise to a halt before the checkered flag. It just looks like one team got it wrong.
It's not the best look for the event, though, which was fairly frustrating to watch. I had high hopes for a nighttime event, especially after the success of 2021, but it was hard not to be jaded during the second 75-lap stint. Martin Truex Jr.'s ultimate win felt like less of a triumph and more of a blessing that the damn thing was finally over. The fans who attended the race seemed to have a great time, but if we're going to keep the LA Coliseum around for 2024, NASCAR is going to need to have a serious rethink about how it wants to operate future events.