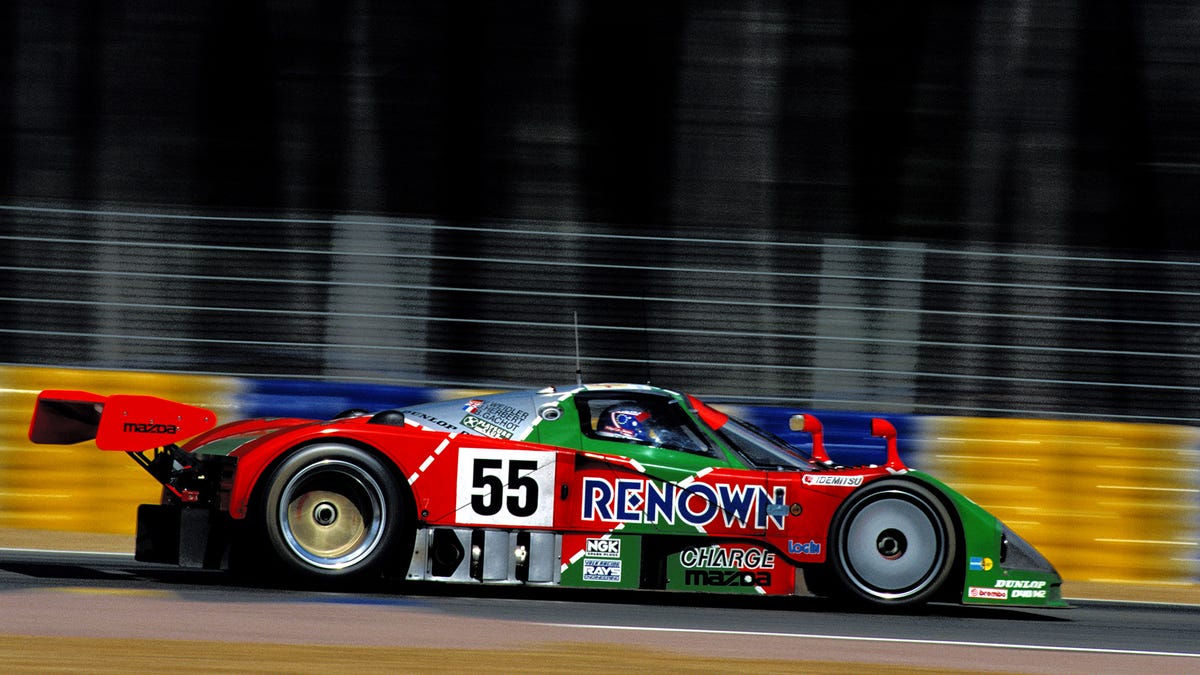 The 1991 24 Hours of Le Mans-winning No. 55 Mazda 787B, driven by Volker Weidler, Johnny Herbert and Bertrand Gachot.Photo: Simon Bruty (Getty Images)
The Mazda 787B may not have been the fastest prototype to participate in the 1991 24 Hours of Le Mans. In fact, it certainly wasn't, with a qualifying time 12 seconds slower than that of the pole Sauber-Mercedes C11. But you don't win Le Mans on speed alone, or sometimes even speed at all. Reliability and efficiency are king. That's how Mazda became the first Japanese manufacturer to win the event, and probably the only one that will ever do it using rotary power alone. Of course, it helped that the car looked stunning too, with its argyle green-and-orange livery.
Mazda brought several of its Group C prototypes to IMSA's Long Beach Grand Prix last May, and journalist Marshall Pruett has posted a very interesting video about one of the 787Bs on hand.
Credit: Marshall Pruett via YouTube
It's the 787 with the white-and-blue corporate Mazda livery that's of interest here. Mo Murray, Mazda Motorsports director, tells Pruett in the video that this car raced in the 1990 and '91 Le Mans event, and finished eighth in the latter. Note that it's not the 787B — that revision first appeared in '91, and it was the No. 55 "B" chassis that won the race. As Murray researched Mazda's collection and discovered in a book written by Pierre Dieudonné — one of the drivers of that No. 56 car — the white-and-blue 787 originally wore those iconic colors, too.
Chips on the wing and radiator reveal the No. 56's original paint job. It's the very same orange that bore Charge and Renown sponsorship on the winning 787B, as well as earlier iterations, like the 767. Murray tells us that the Charge/Renown livery moved to the newer 787B in '91, leaving the older car to be repainted in Mazda's colors.
These weren't the only looks for Mazda's prototype; the 787B also ran in the green-and-white colors of ɛ̃fini, Mazda's short-lived, pseudo-luxury brand exclusive to the Japanese market, for a few races in Japan in '91. It's hard to find a sourceable photo of that machine, but as always, Racing Sports Cars has us covered.
G/O Media may get a commission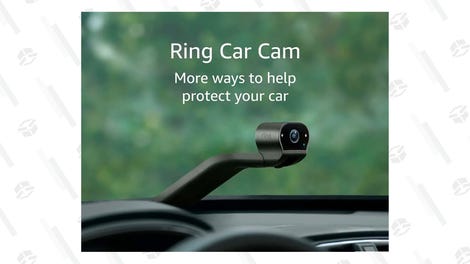 $50 off preorder
Ring Car Cam
It's a camera. For your car.
The Ring Car Cam's dual-facing HD cameras capture activity in and around your car in HD detail.
Motorsports fans know that livery changes are routine, but as time passes — particularly since events in the pre-internet world — documenting these things becomes harder and harder.
For example, Nissan only ever built one R390 GT1 road car — a blue car that remains in the automaker's collection in Japan, with a long-tail body. However, when the R390 homologation model was first built in 1997, it was red, with a completely different rear-end design.
It might seem like there are two different R390s out there, but the red one hasn't been photographed since the blue one appeared. They're the same chassis. Another secret: the R390's greenhouse is visibly similar to that of the Jaguar XJR-15, because Tom Walkinshaw Racing was contracted to build both and utilized some of the same tooling.
Not that we'd recommend it (or say we did in a court of law), but if you managed to infiltrate Nissan's headquarters and chip at the body of the blue R390 road car with a knife, chances are you'd find a different hue underneath, just like on the No. 56 Mazda 787.